2023 Mission Creek Festival
2023 Mission Creek Festival
April 6

-

April 8

$50 – $110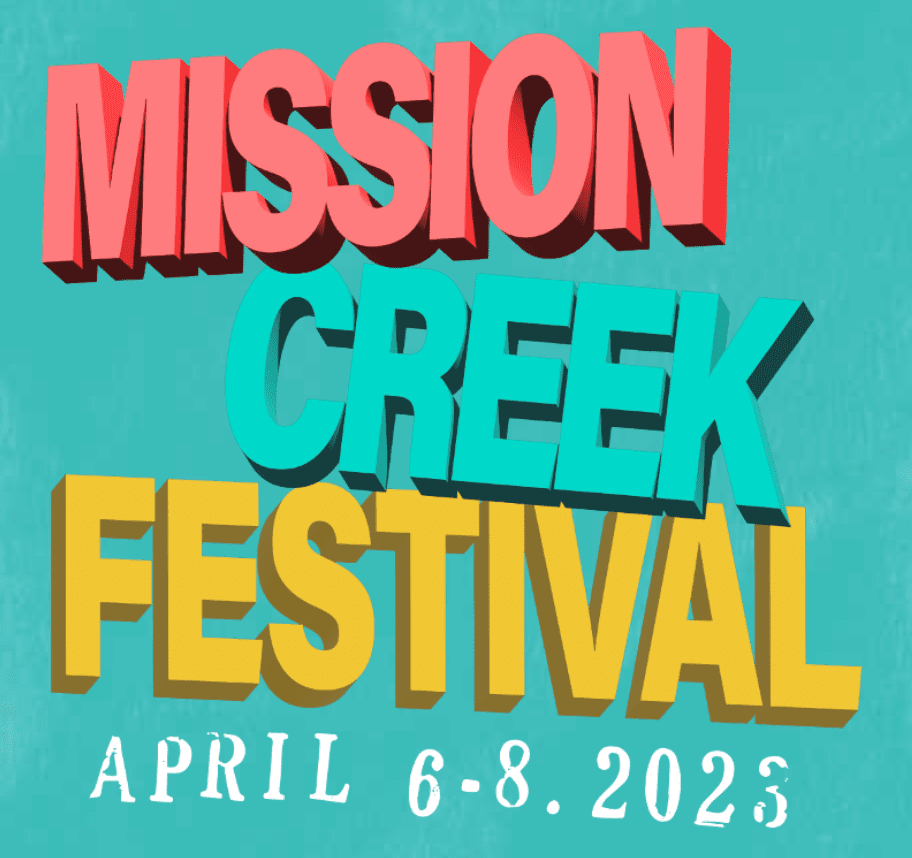 A CONTINUED HOMECOMING: After a triumphant return to a live, in-person festival experience in 2022, the 18th installment of Mission Creek will embrace a balance of evolution and familiarity in its ongoing exploration of independent voices in music, literature, and community. The 2023 festival stretches to the northern and southern edges of town while always centering its heart in downtown Iowa City.
A SPECTACULAR OPENING & A BUSY WEEKEND: The opening ceremonies will offer a multidisciplinary experience in the stunning expanse of Hancher Auditorium, marking Mission Creek's first return to the venue since 2018. Hancher will host a performance by festival headliner Cat Power in a piano & guitar duo format, a reading and Q&A by writer Michelle Zauner (of Japanese Breakfast), and a set by rising indie rock songwriter Black Belt Eagle Scout.
The Friday and Saturday programming will focus on a downtown hub of venues like The Englert Theatre, Gabe's, and Riverside Theatre for music and The Chauncey, The Tuesday Agency, Prairie Lights, Public Space One, The James Theater, and a host of smaller retail venues for the Lit Fair and Lit Walk. As always, Saturday afternoon will feature an entirely free concert program at Big Grove Brewery and Trumpet Blossom Cafe.
A CELEBRATION OF LITERATURE: The 2023 literary program includes a robust partnership with The Sun Magazine in honor of their 50th year anniversary, including a capstone reading on Saturday, April 8 at The James Theater. Saturday's literary programming will also include a "Readers Write" Workshop hosted by The Sun Magazine; a Literary Conversation on texture and hybridity in the indie publishing world between Fonograf Editions and Sarabande Books; and an Industry Talk focusing on chapbooks hosted by Black Lawrence Press; and a podcast recording by Lit Hub's Thresholds Podcast, hosted by Jordan Kisner.
NEW LEADERSHIP, ENDURING VISION: The Englert Theatre's senior programming manager Brian Johannesen assumes the role of festival director for Mission Creek 2023, following in the footsteps of a dear friend, longtime collaborator, and festival co-founder Andre Perry who now serves as the festival's artistic director. Literary director Nina Lohman helms the multifaceted engagements with writers, readers, editors, and publishers. Marketing and programming coordinator Elly Hofmaier has taken on an essential role that blends curation, design, and community engagement. Emeritus festival producer Christopher Wiersema–who stepped away after the 2022 festival to focus full-time on Feed Me Weird Things and the Feast Festival–remains on speed dial for advice and moral support!
GENERAL INFORMATION
Mission Creek Festival is a 3-day music and literature festival that takes place every spring in downtown Iowa City, Iowa. The festival thrives on intimacy and visceral connections between artists and audiences. We host events indoors at traditional venues and local shops converted into performances spaces solely for the festival.
The program champions independent-minded musicians and writers–some are well-known, some are underground, some are emerging, and all of them are singular. Inspired by our producing organization's values–The Englert Theatre–we promote voices across ethnicities, cultures, and experiences that reflect the diversity of our community today and where it is headed in the future.
Thursday April 6, 2023
  5:45
  Hancher Auditorium
  7:15
  Hancher Auditorium
  8:30
  Hancher Auditorium
Friday, April 7, 2023
  5:00 PM
  Prairie Lights
  7:00 PM
  Riverside Theatre
  7:30
  Gabes
  8:00
  The Englert
  8:30
  Riverside Theatre
  9:00
  Gabes
  9:45
  The Englert
  9:45
  Riverside Theatre
  10:45
  Gabes
Saturday, April 8, 2023