A Conversation with Alyx Rush & Blake Shaw
A Conversation with Alyx Rush & Blake Shaw
June 15 @ 12:00 pm

-

1:00 pm

Free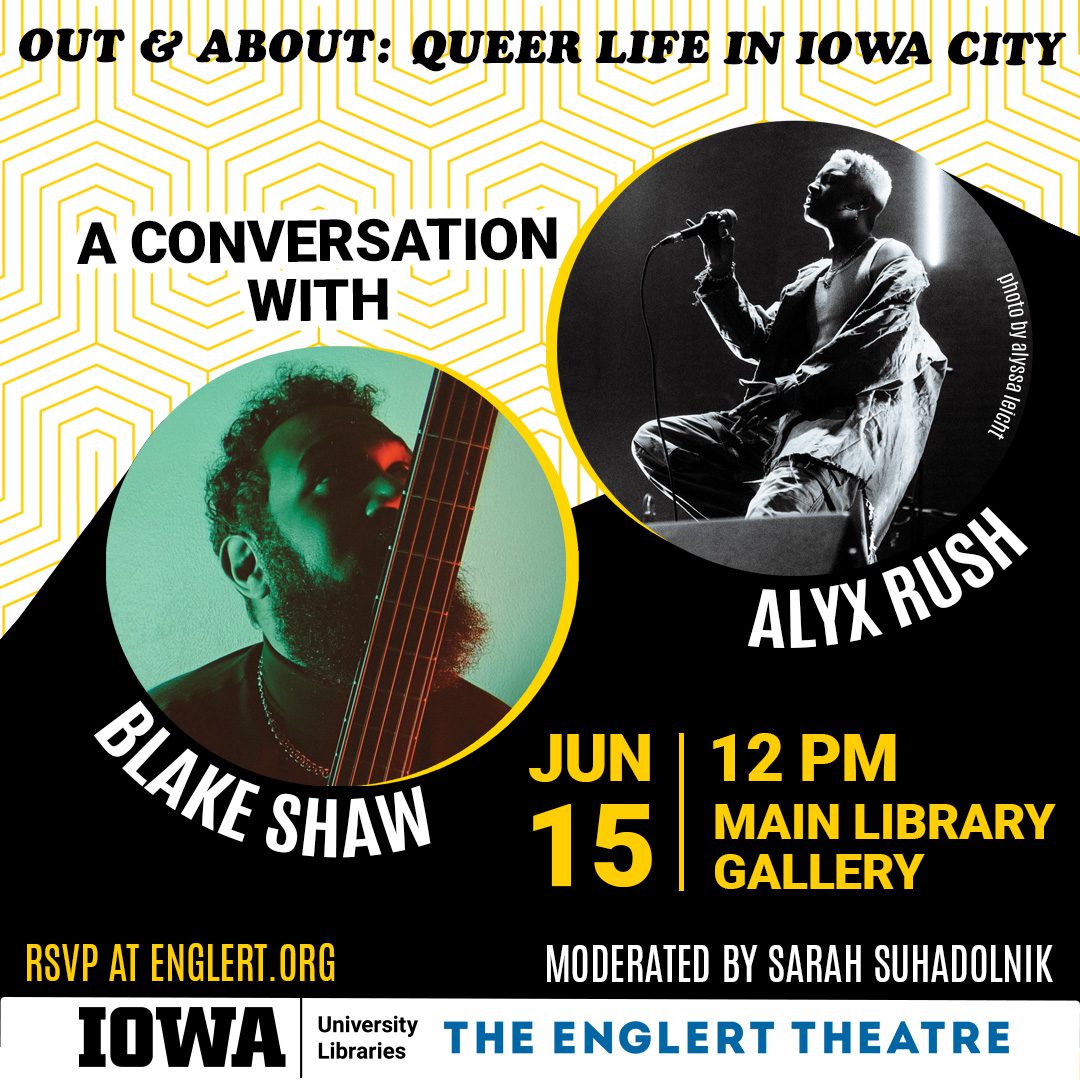 Join The Englert on Thursday, June 15 for a special event in the University of Iowa Libraries' Main Library Gallery. Against the backdrop of the gallery's Out & About: Queer Life in Iowa City exhibit, Iowa City musicians Alyx Rush and Blake Shaw will give a short performance and have a conversation with UI lecturer Sarah Suhadolnik about life as queer artists in Eastern Iowa. The event starts at noon and is free and open to the public. Please RSVP here.
Alyx Rush is a sonic sorcerer who has been busy capturing minds and imaginations across the Midwest with an alluring R&B/pop sound that beautifully smudges the edges of both genres. Adopted as an infant and raised in rural Iowa, he has never been afraid to be his true authentic self. Casting his spell from under the underground, Rush has risen quickly with head-turning independent releases and captivating live performances at festivals and venues across the region. He is both technically gifted and rawly emotive as a vocalist, swooping through irresistible top lines on wavy production that ranges from winter ballads to summer sways. His sound can soar, swagger and swoon, sometimes all at once. Already recognized as one of the top artists in the area, Rush will push his wave even further this summer with a new EP, After the Last Time his second collaboration with artist/producer Jim Swim. There's no ceiling for this one. Photo by Alyssa Leicht.
Blake Shaw is a composer/arranger, bandleader, double/electric bassist, vocalist, jazz professor, and private lessons teacher originally from Lisbon, Iowa. He has earned an Associate of Arts degree from Kirkwood Community College as well as a Bachelor of Music and Master of Arts degree, both from the University of Iowa. He has called Iowa City, Iowa, home for the past 13 years, where he has provided insight on festival boards for a little over half that time for the Iowa City Jazz Festival and the Iowa City Pride Fest. Shaw is a frequent performer and band leader in many different groups across Iowa and the U.S. Shaw can also be found teaching private lessons to young dedicated classical and jazz double bass players and is currently the jazz ensemble director at Cornell College in Mount Vernon, Iowa. Shaw has had the pleasure of playing with jazz greats such as Carmen Bradford, Wycliffe Gordon, Dave Pietro, O'had Talmor, and Dick Oatts. He's also been in groups opening for bands such as Lake Street Dive, Donny McCaslin, Margaret Glaspy, John Raymond and the Real Feels, Bridget Kearney, Caroline Smith, The Marcus King Band, and Euforquestra. You can see more about him on instagram @theeblakebass
Sarah Suhadolnik is a Lecturer in Musicology at the University of Iowa, where she teaches courses in American music, jazz, pop, Western art music, and music and gender studies. Her current research centers around overlapping ideas of music and place—particularly those that highlight the ways in which public perceptions of dynamic musical landmarks, such as New Orleans, are shaped by their popular musical representation.