Almost-Paleo Apple Pie with Paige (No Gluten added)
Almost-Paleo Apple Pie with Paige (No Gluten added)
September 16 @ 7:00 pm

-

8:30 pm

$29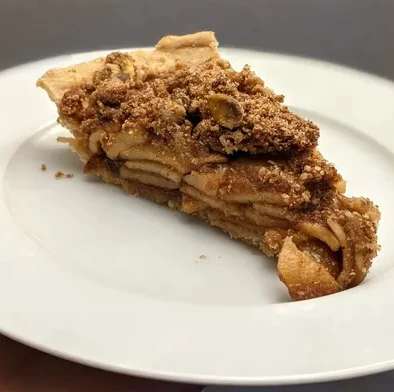 September is apple month, and we have a spectacular way to enjoy pie, sans the gluten… Join instructor Paige Knapp as she creates a delicious no gluten added apple pie — complete with toppings and ice cream, of course!
Class Type: Demonstration with dessert and drinks included
Date & Time: Friday, Sept. 16, 7-8:30PM
Seating Available: 6 counter seats, and 3 cocktail tables (for 2), 12 total seats
Watch and learn as Paige creates a no gluten pie crust using a unique recipe that includes cassava and tapioca flour, among other things. She will also make two pie toppings — a paleo caramel sauce, and a bourbon coconut whip cream.
At the end of the evening you'll enjoy a hearty slice, with vanilla bean ice cream and your choice of toppings (or both!). The apple pie will be paired with a flavorful fall mulled apple cider (spiked…or not). All recipe instructions will be provided, so you can recreate the dessert, toppings and drinks at home.
All food and drink is prepared and served in a kitchen that contains animal products, gluten, nuts, and other potential allergens. Items on class menus can not be made-to-order, so substitutions are not available.
About the instructor
Paige is a 20-something early bird, avid home gym-goer, and food lover who loves a good kitchen dance party! She's also a certified personal trainer through NASM and a gut health & intentional eating coach. She is currently obtaining a Masters in Human Nutrition & Functional Medicine.