Witching Hour Presents: Another Stage of Staging Ourselves
Witching Hour Presents: Another Stage of Staging Ourselves
October 29, 2022 @ 7:30 pm

-

9:30 pm

$10 – $23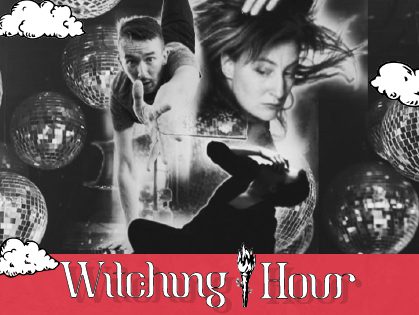 2022 Witching Hour Fall Series
Presented by Little Village Magazine & The Englert Theatre
Sponsored by: ReUnion Brewery, Rylan and Ross DeValois of MidAmerica Securities, MidAmerican Energy, Phoebe Martin (REALTOR), Goodfellow Printing, Iowa Arts Council / Iowa Department of Cultural Affairs, National Endowment for the Arts, Think Iowa City, Iowa City Downtown District, Marcus-Fitzpatrick Team Blank & McCune, & University of Iowa Libraries.
This event is part of the 2022 Witching Hour Fall Series. Purchase a series pass HERE to get full access to all five shows in the series!
PLEASE READ before purchasing tickets:
On-Sale Schedule
Member Pre-Sale: Wednesday, 8/3 @ 10:00 AM CT
Public On-Sale: Friday, 8/5 @ 10:00 AM CT
Ticket Options
$20 + Fees – General Admission
$16 + Fees – General Admission (Members)
$10 + Fees – General Admission (Student w/ ID)
Show Description
Jennifer Kayle's dancing has been referred to as having "muscular presence" (Dance Source Houston), while her work has been reviewed as "provocative, tight, with wit and stage craft… serious chops" (Vox Fringe), "distinct… affecting scenes" (Hampshire Gazette), "memorable…shockingly poignant," (City Revealed). With over 60 works shown nationally and internationally, Kayle's projects often wonder about social change, usually with optimism and pessimism in a clash of wills. Her choreography is deeply informed by collaborative process and intersects with her work as a director and performer of Ensemble Improvisation.
Brady Van Patten is a Chicago based physical theatre artist who plays in the forms of dance, clown, choreography, and improvisation. While in Chicago Brady has had the pleasure to perform and study with the Neo-Futurists Theatre Company. As a freelance performer Brady has created and studied with other great minds such as Alexandra Beller, Leah Urzendowsk, Anthony Courser, Adrian Danzig, Melinda Jean Myers, Kurt Chiang, and Dan Kerr-Hobert. Brady has created and Performed original works at the Harvest Chicago Contemporary Dance Festival, Chicago Peacebook Festival, Links Hall, and Navy Pier.