Antonio de Jesús López in conversation with Brenda Hillman
Antonio de Jesús López in conversation with Brenda Hillman
October 6, 2021 @ 7:00 pm

-

9:00 pm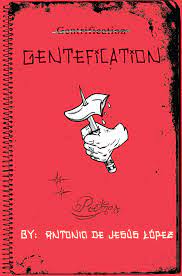 Prairie Lights Virtual – Zoom
Please join us for a reading and conversation with Antonio de Jesús López  to celebrate the release of Gentefictation . He will be joined in conversation by Brenda Hillman.
To join this virtual event, register here.
Gregory Paldo, winner of the Pulitzer Prize in poetry says of the book, "In his debut poetry collection, Gentefication, Antonio de Jesús Lopéz adorns novelty with innovation by rendering the reader—in addition to the objective world—in surprising new ways. As if they were exorcising our demons or, less ominously, assigning us roles that break from the typecast routines of our daily lives, these poems call to the surface aspects of ourselves that we are rarely asked to engage. Poems tender and ironic, earnest and outraged display a mind abundant with knowledge yet desperate for answers. While so much American poetry asks of the reader only their passive attention, these poems work like personal trainers. They call for the kind of mental and spiritual absorption that can make prayer feel productive."
Antonio López is a poetician working at the intersection of poetry, politics and social change. He has received literary scholarships to attend the Community of Writers at Squaw Valley, Tin House, the Vermont Studio Center, and Bread Loaf. He is a proud member of the Macondo Writers Workshop and a CantoMundo Fellow. He holds degrees from Duke University, Rutgers-Newark, and the University of Oxford. He is pursuing a PhD in Modern Thought and Literature at Stanford University. His debut poetry collection, Gentefication, was selected by Gregory Pardlo as the winner of the 2019 Levis Prize in Poetry. He is a district representative for California State Senator Josh Becker. Antonio is currently fighting gentrification in his hometown as the newest and youngest councilmember for the City of East Palo Alto. www.barrioscribe.com
Brenda Hillman is an activist, writer, and teacher. She has published nine collections of poetry, all from Wesleyan University Press, including Practical Water, for which she won the Los Angeles Times Book Award for Poetry. Hillman serves on the faculty of Saint Mary's College in Moraga, California, as the Olivia Filippi Professor of Poetry.