Beaker Brothers Celebrate the 50th Anniversary of Eat A Peach
Beaker Brothers Celebrate the 50th Anniversary of Eat A Peach
October 28 @ 7:30 pm

-

9:30 pm

$10 – $20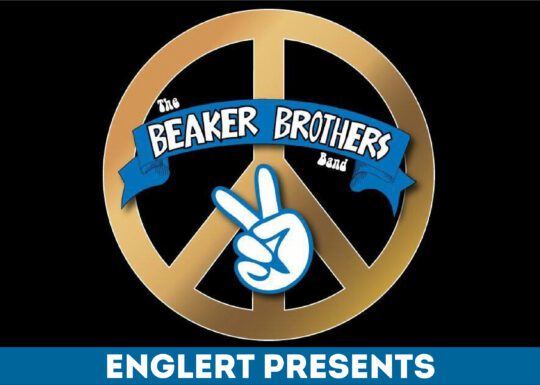 A Tribute to The Allman Brothers to Celebrate the 50th Anniversary of Eat A Peach
PLEASE READ before purchasing tickets:
On-Sale Schedule
Members Pre-Sale: Tuesday,8/16 @ 10:00 AM CT
Public On-Sale: Thursday, 8/18 @ 10:00 AM CT
Event Schedule
6:30 PM – Doors Open & Seating Begins
7:30 PM – Show
Members
If you are a member of the Englert and have a promo code, please click "Add Promo Code" before choosing your seats. Not a member? Get access to advance ticketing (and more!) by becoming a member of the Englert. 
CLICK HERE
 to learn more.
Ticket Options
$20 + Fees – General Admission
$17 + Fees – General Admission (Members)
$10+ Fees – General Admission (Student w/ ID)
Show Description
The first rule of The Beaker Brothers Band was you had to be at least fifty years old to be in it. The second rule of the Beaker Brothers Band was you couldn't quit until you were over sixty. Now what do we do? Ha!
Fifteen years ago, The Beaker Brothers Band was founded by veteran area musicians: Steve Grismore, Dan Hummel, James Dreier, Dan Bernstein, Ed English, and the late John Shultz. We continue to celebrate the spirit of the original jam-bands, and to honor the legacy of the Beaker Street radio program. Hosted by Clyde Clifford on KAAY from Little Rock, Beaker Street is still the home of "alternative rock" from before that was even a thing.
Being over fifty made it more likely that band members had grown up listening to, and even performing, the music of the late sixties and early seventies era. This is still important to us.
In 2018, we lost dear friend and founding member, John Shultz. It was no easy feat to replace someone with John's many talents and boundless energy. Fortunately, Bill Peterson (aka the White Tornado), agreed to join the band at that time. He is an accomplished keyboardist and vocalist, although the age-limit rule was broken to let him into the band. We also recently added a long-time friend, Steve Prottsman, to the mix. Steve is an incredible vocalist and plays multiple instruments, including keys, guitar, and percussion.
With two guitarists, two drummers, bass, and two keyboardists, we are able to even better re-create the music of Carlos Santana, Eric Clapton, the Doors, Neil Young, CCR, Little Feat, James Gang, Rolling Stones, Beatles, and others, as well as the Allman Brothers Band.
This special UI Homecoming performance will feature a nod to the 50th anniversary of the legendary Allman Brothers Band album, Eat a Peach. One of our favorites.
We look forward to you joining us for this special evening of music. There may even be a surprise guest or two…
Peace,
The Beaker Brothers Band