Best Of Iowa Comedy Showcase
Best Of Iowa Comedy Showcase
September 16, 2022 @ 9:30 pm

-

September 17, 2022 @ 1:30 am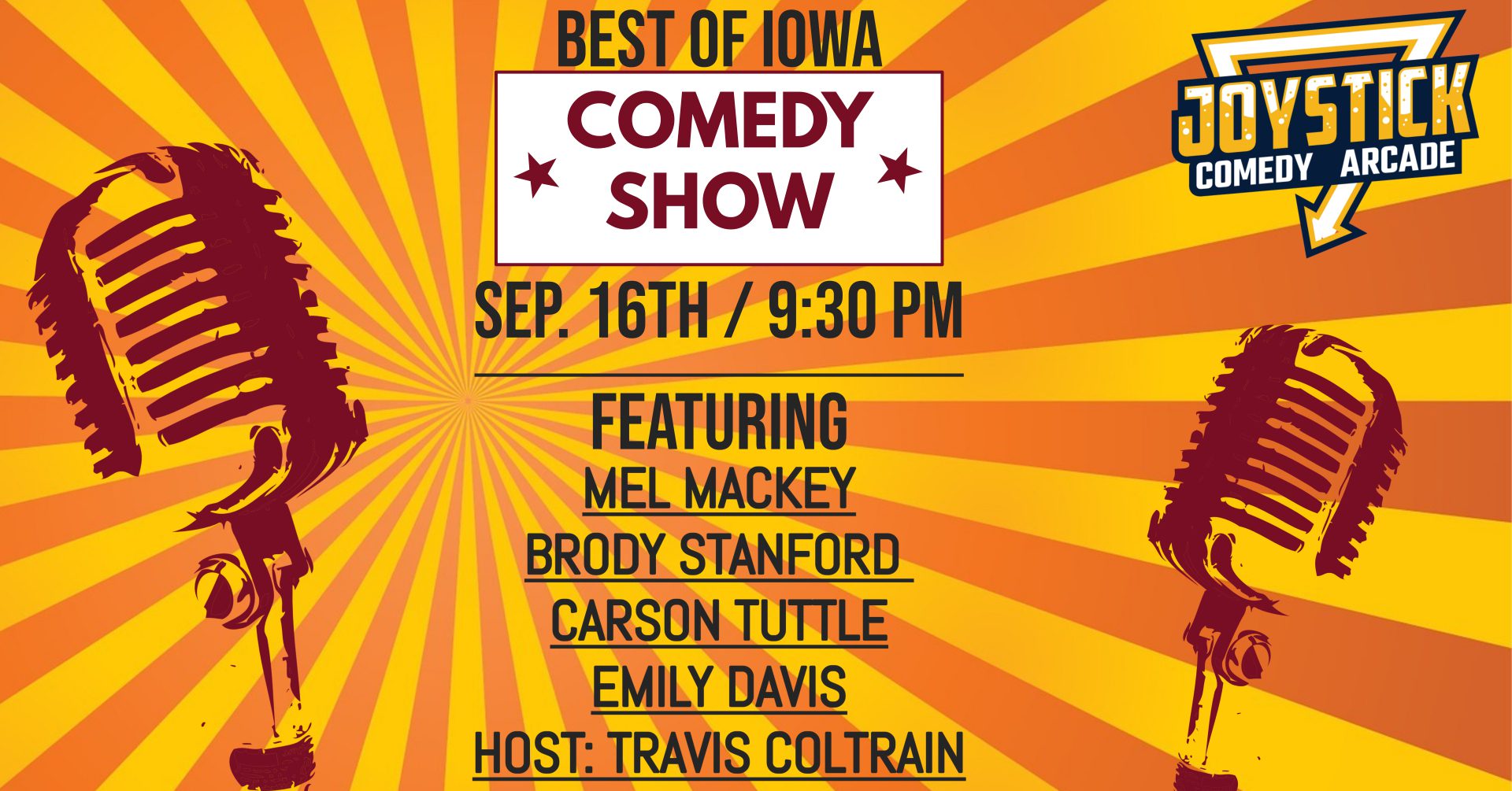 Join us at Joystick as Iowa's best comedians hit the stage for a night full of laughs!! Mel Macky, Brody Stanford, Carson Tuttle, Emily Davis and Travis Coltrain!
With hair as colorful as her vocabulary, Emily Davis brings the party wherever she goes. Emily comes to comedy by the way of the theater and major alcoholism. With her on the mic you'll be wondering if you stumbled into an AA meeting. You did. It's a trap. Emily Davis is here to tell jokes and chew bubble gum, and she's all out of bubble gum.
Mel Mackey is an "overwhelming ball of energy" from Des Moines, Iowa. She uses comedy to pursue her constant need for attention. With a background in theatre, improv, cheerleading and gymnastics and a long career planning weddings, she just wants everyone to have a good time. She has performed standup across the midwest and hosts the weekly Open Mic at Teehee's Comedy Club in Des Moines. Whether you're horny, hungry, or worried that everyone's mad at you, you're sure to find her bubbly demeanor either deeply relatable or destructively annoying.
Carson Tuttle is a stand-up comic from Iowa City. Voted Best Local Stand-Up Comedian 2021 by Little Village Magazine, Carson has featured in venues all over the Midwest, bringing his upbeat personality and "camp counselor energy" to the mic with each performance. He enjoys walking his shih tzu puppy, asking sidewalk fortune tellers to give him Tarot readings, and watching Murder She Wrote on the elliptical. He is also an up-and-coming slam poet. Carson produces and hosts the Red Room Comedy Showcase in Iowa City.
Brody Standford is an Iowa based comic that uses his quick witts to make. the audience laugh.
Travis Coltrain is Joystick's golden egg, a commodity they don't wanna get rid of. He regularly hosts Joystick's shows