Bill Frisell & Petra Haden
Bill Frisell & Petra Haden
December 10, 2022 @ 7:30 pm

-

9:30 pm

$20.00 – $42.50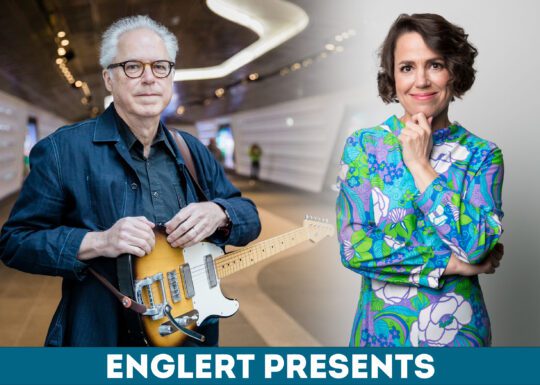 PLEASE READ before purchasing tickets:
On-Sale Schedule
Pre-Sale Begins: Wednesday, September 28 @ 10:00 AM CT
Public On-Sale: Friday, September 30 @ 10:00 AM CT
Ticket Options
$38.00 + Fees – Reserved Seating
$32.00 + Fees – Reserved Seating – Members
$20.00 + Fees – Reserved Seating – Student (w/ ID)
Members
If you are a member of the Englert and have a promo code, please click "Add Promo Code" before choosing your seats. Not a member? Get access to advance ticketing (and more!) by becoming a member of the Englert. 
CLICK HERE
 to learn more.
Show Description
Bill Frisell's career as a guitarist and composer has spanned more than 40 years and many celebrated recordings, whose catalog has been cited by Downbeat as "the best recorded output of the decade".
Recognized as one of America's 21 most vital and productive performing artists, Frisell was named an inaugural Doris Duke Artist in 2012. He is also a recipient of grants from United States Artists and Meet the Composer, among others. From 2013 – 2015, Bill was Resident Artistic Director for Jazz at Lincoln Center for their Roots of Americana series, and in 2016, he was a beneficiary of the first FreshGrass Composition commission to preserve and support innovative grassroots music. Upon San Francisco Jazz opening their doors in 2013, he served as one of their Resident Artistic Directors. Bill is also the subject of a documentary film by director Emma Franz, entitled Bill Frisell: A Portrait, which examines his creative process in depth. He has also received an honorary doctorate from the Berklee College of Music.
In a restlessly eclectic, wholly unique musical career that spans two and a half decades, Petra Haden has established a singular reputation for creativity and versatility, and a unique niche that's allowed her to apply her multiple talents to a dazzlingly diverse array of music.
As a singer, instrumentalist, and composer, Haden has built an impressively varied and accomplished discography encompassing her work as part of the 1990's alt-rock quartet That Dog, her collaborations with a broad array of acts, and a series of her own releases, which often showcase her unique talent for constructing complex, evocative A-Cappella arrangements by inventively layering multiple tracks of her own voice. Her catalogue includes ImaginaryLand, Petra Haden Sings: The Who Sell Out, and Petra Goes to the Movies, Her work with Bill Frisell includes their eponymously titled 2005 collaboration and Frisell's albums HARMONY and When you Wish Upon a Star. In 2014, she teamed with sisters Rachel and Tanya to record the widely celebrated album, The Haden Triplets, produced by Ry Cooder. That same year she scored her first short film, "Dogbowl" written and directed by Gordy Hoffman. In 2015, Petra teamed up with producer, guitarist, vocalist, and composer Jesse Harris, and released: Petra Haden Sings Jesse Harris, "Seemed Like a Good Idea" (Sunnyside). In 2020, John Zorn and Jesse Harris released "Songs for Petra" (Tzadik).