Black History Calendar Creation Studio
Black History Calendar Creation Studio
February 5 @ 2:00 pm

-

4:00 pm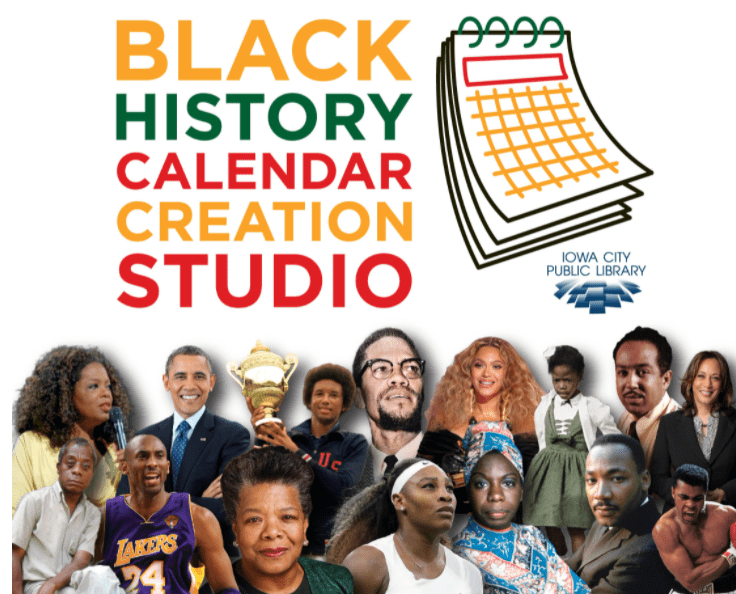 All ages are invited to drop in and create a Black history wall calendar that will help you celebrate and honor Black excellence all year long!
Start with a blank wall calendar; select from an array of photographs and quotes of inspiring Black leaders to decorate each page of your calendar; finish with trimmings such as ribbon, gems, and stamps for a layered, textural collage look. Then hang on your wall at home and keep Black History Month going all year long!
No registration required. Masks are required for ages 2+ in the library. Drop in anytime between 2-4pm to complete this project. If leftover project kits remain, they will be available to grab and go from the Children's Room beginning after the program and available as long as supplies last.
——————-
¡Todas las edades están invitadas a visitarnos y crear un calendario de pared de la historia negra!
Comience con un calendario de pared en blanco; seleccione de una variedad de fotografías y citas de líderes negros inspiradores para decorar cada página de su calendario; Termine con adornos como cintas y gemas para lograr una apariencia de collage con textura. ¡Luego cuélguelo en la pared de su casa y mantenga el Mes de la Historia Negra durante todo el año!
No es necesario registrarse. Se requieren máscaras para mayores de 2 años en la biblioteca. Visítenos en cualquier momento entre las 2 y las 4 p. m. para completar este proyecto. Si sobren kits de proyecto, estarán disponibles para recoger y llevar desde la Sala de niños despues del programa y estarán disponibles hasta se acaban.
This event is open to the public.