Body Parts
March 25 @ 10:00 am

-

12:00 pm

$20
March 25 
@ 
10:00 am 
– 
12:00 pm 
CDT

| How to Register at the ArtiFactory |
---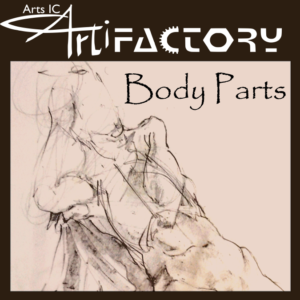 Of all the subjects in the world to study, the human is of most interest to us, artistically and scientifically. The human form in art is a centuries old tradition. Using many different media artists depict the psychology and anatomy of humanity .
As well as technique, our class will work on drawing all the body parts from different positions. Our goal will be to understand how it all comes together, and be able to draw it with more accuracy
We will start parts of the head. We will work on hands, knees, feet, and all the rest. Everyone will receive a folder for work sheets with general instructions for drawing the average individual of any age. These tools will help whether you are drawing from life or photographs.
Your leader in this effort is Beppie Weiss. She has drawn and painted hundreds, maybe thousands, of portraits and people drawings, and will help you improve your own drawing skills.
There will be homework.
Bring your own materials. Paper, pencils, and conte. No charcoal please.
Each 2 hour session will cost $20. We will have a model as well as work from each other. Class size is limited to 12 but needs 6 to go. Pre-registering is required.