Book to Art Club: Sugar Skulls
Book to Art Club: Sugar Skulls
October 26 @ 4:00 pm

-

5:00 pm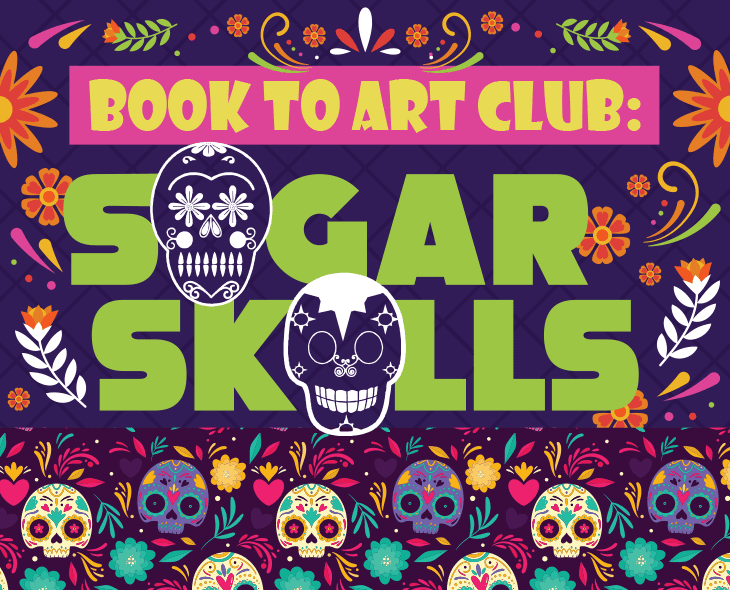 Wednesday, October 26, 2022 –4:00pm to 5:00pm
Book to Art Club is the last Wednesday of every month for preschool through 2nd Grade. Each month we will read a picture book and create custom art inspired by the story!
El Día de Muertos, Day of the Dead, is just days away, a holiday for celebrating the lives of departed family and friends. First, we will read about the holiday with Roseanne Greenfield Thong's illustrated story, then we will create custom sugar skull sun catchers that you can design, color and cut out!
每月最后一个周三的Book to Art Club 阅读与创作活动面向K-2学生。每期活动我们将阅读一本绘本,并根据故事的主题创作自己的艺术作品!
几天以后就到亡灵节了,人们在这个节日里纪念逝去的家人和朋友。今天,我们将阅读Roseanne Greenfield Thong 的绘本,然后我们将自己设计,制作特别的糖骷髅透光窗饰。
—
Book to Art Club es el último miércoles de cada mes para preescolar hasta segundo grado. ¡Cada mes leeremos un libro ilustrado y crearemos arte personalizado inspirado en la historia!
If you need disability-related accommodations in order to participate in this event, please contact the Library.
This event is open to the public.