Carl Klaus: The Ninth Decade: An Octogenarian's Chronicle
Carl Klaus: The Ninth Decade: An Octogenarian's Chronicle
October 1, 2021 @ 7:00 pm

-

9:00 pm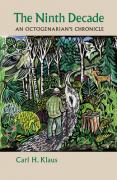 Prairie Lights Virtual – Zoom
Please join us for a reading from Carl Klaus to celebrate his new book The Ninth Decade: An Octogenarian's Chronicle.  Register here!
Robert Atwin, editor of The Best American Essays, calls the book "an intimate yet hands-on lesson on how to face the inevitable infirmities and losses of our eighties with grace, resilience, and composure. In place of the usual stoical bromides, these contemplative journals offer a different, more constructive message: the key to a satisfying old age may be simply a matter of learning to maintain the enthusiasms that have long sustained us. The Ninth Decade is a major contribution to the growing literature of aging."
Carl H. Klaus is founder of the University of Iowa's Nonfiction Writing Program and Professor Emeritus at Iowa. Klaus's literary nonfiction includes My Vegetable Love: A Journal of a Growing Season (Iowa, 2000), Taking Retirement: A Beginner's Diary, and Letters to Kate: Life after Life (Iowa, 2006). He lives in Iowa City, Iowa.