Cat Extravaganza
January 14 @ 3:00 pm

-

5:00 pm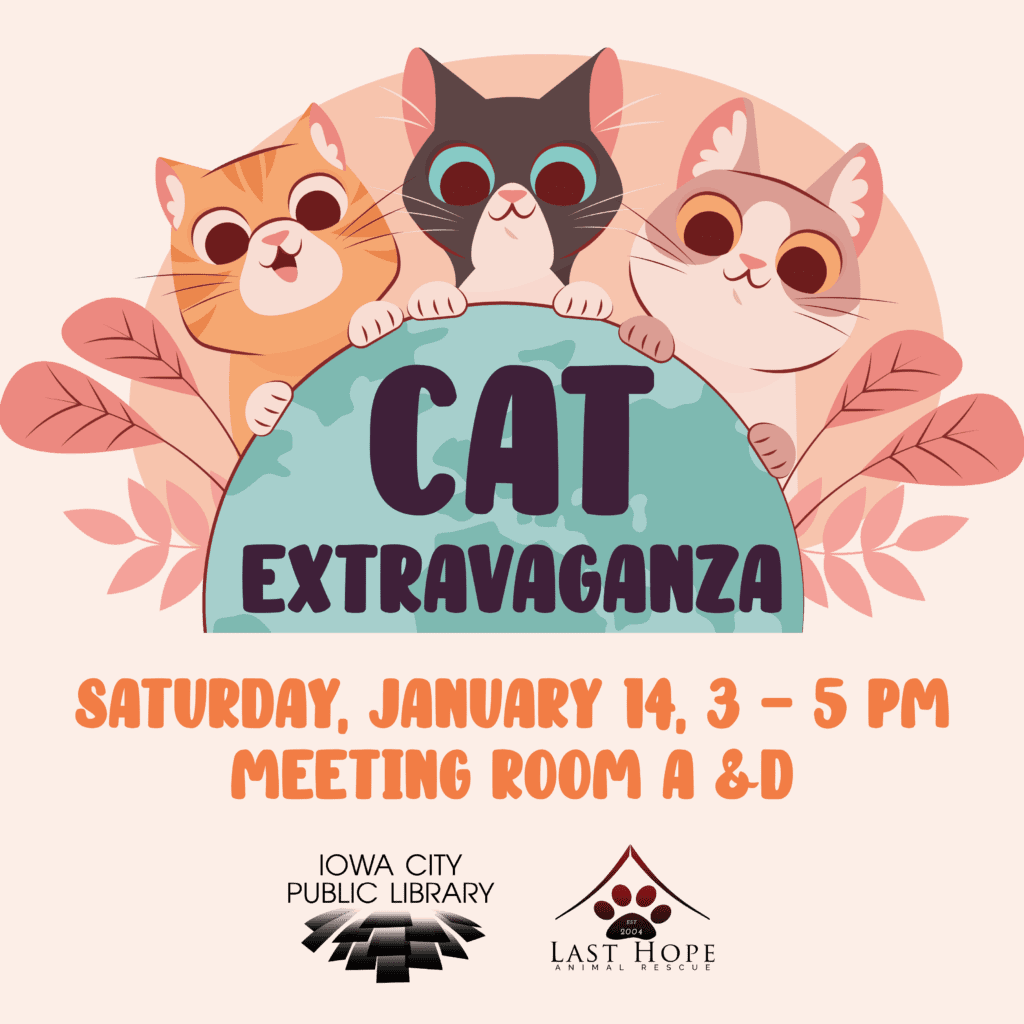 Saturday, January 14, 2023 –3:00pm to 5:00pm
Meeting Room A, Meeting Room B, Meeting Room C, Meeting Room D
Join us for a celebration of your favorite furry, feline friend: the common housecat. First 30 minutes: play cat breed bingo (with prizes). Next 30 minutes: watch Internet cat videos (and vote for your favorite). Final 60 minutes: meet adoptable cats from Last Hope Animal Rescue. Before or after meeting the cats, eat a snack or make a cat craft.
People will be admitted in groups of 10ish to the cat area to interact with the cats. Depending on the number of people in attendance, you may have to wait some time for your turn. Luckily, you can craft and snack while you wait. Even more luckily, cats are worth the wait! We'll appreciate your patience, and everyone will get a chance to meet the cats.
—
Únase a nosotros para celebrar a su amigo felino peludo favorito: el gato doméstico común. Primeros 30 minutos: juega al bingo de razas de gatos (con premios). Próximos 30 a 60 minutos: mira videos de gatos en Internet (y vota por tu favorito). 30 minutos finales: conozca a los gatos adoptables de Last Hope Animal Rescue. Antes o después de conocer a los gatos, coma un refrigerio o haga una manualidad para gatos.
Dependiendo de la cantidad de personas que asistan, es posible que tengas que esperar tu turno para encontrarte con los gatos. ¡Afortunadamente, los gatos valen la espera! Apreciaremos su paciencia.
—
和我们一起庆祝您最喜欢的毛茸茸的动物朋友:宠物猫吧。活动流程:前 30 分钟玩猫品种宾果游戏赢取奖品;之后30 分钟观看网络猫视频并投票选出您的最爱;最后 60 分钟与来自 Last Hope Animal Rescue "最后的希望"动物收容所的待领养猫猫们见面。活动期间可享用零食或手工活动。
参与者将以 10 人为一组进入猫区与猫互动。我们确保所有人都有机会见到猫猫,但是根据出席人数多少,您可能需要等候一段时间。等候期间可享用零食或手工活动。而且,猫猫是值得等待的!感谢您的耐心!
If you need disability-related accommodations in order to participate in this event, please contact the Library.
This event is open to the public.