Chuy Renteria in conversation with Michael Chibnik
Chuy Renteria in conversation with Michael Chibnik
May 27, 2021 @ 7:00 pm

-

9:00 pm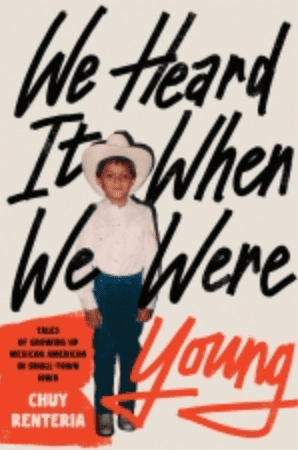 Prairie Lights Virtual – Zoom
Please join us, with the Center for Worker Justice of Eastern Iowa for a virtual reading and discussion with Chuy Renteria of his forthcoming book, We Heard it When We Were Young, from University of Iowa Press about Latinx immigrant experiences of himself and others in West Liberty, Iowa. The conversation will be moderated by Professor Emeritus at the University of Iowa, Michael Chibnik.
To join this virtual event, register here.
The discussion is part of the NEA Big Read Program which broadens our understanding of our world, our communities, and ourselves through the joy of sharing a good book. Showcasing a diverse range of themes, voices, and perspectives, the NEA Big Read aims to inspire conversation about discovery.
Jennifer Colville, author, Elegies for Uncanny Girls, says of the book, "Chuy Renteria writes what no one else can. He writes as a b-boy, a first-generation Mexican American, a small-town Iowan, a friend, a son, and a brother. The result is part bildungsroman and part unique socio-cultural exploration. His writing is fascinating, moving, and full of kinetic style."
Chuy Renteria, a b-boy since the age of fourteen, is a central figure in the Iowa dance scene, and is also the public engagement coordinator for Hancher Auditorium. Renteria's stories have been published in We the Interwoven. He lives in Iowa City, Iowa.
He will be joined in conversation by Michael Chibnik, Professor Emeritus at the University of Iowa. He was the guest curator of a large exhibit of Oaxacan wood carvings at the University of Iowa Museum of Art in 2005 and 2006. His most recent book, Scholarship, Money, and Prose: Behind the Scenes at an Academic Journal was published in 2020 by University of Pennsylvania Press.