CJ Solar
January 21 @ 8:30 pm

-

10:30 pm

$5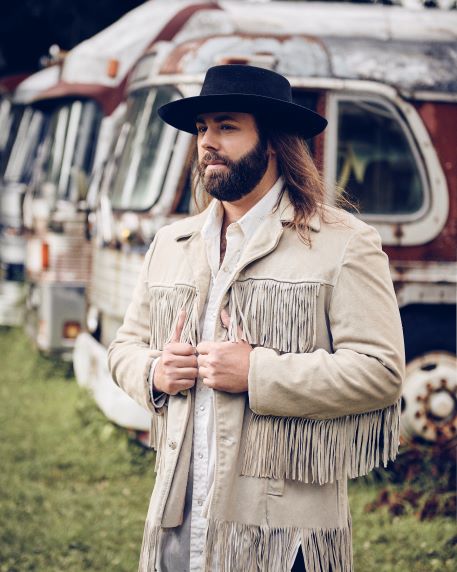 Saturday, January 21
Door: 8:00PM, 9:00PM
$5 Cover at the Door
21+.  Free entry before 9pm and just a $5 cover at the door after 9pm to enjoy this show and more entertainment across 3 stages at Elray's Live & Dive in downtown Iowa City!
This show will take place on our upstairs stage.
CJ Solar: WEBSITE   INSTAGRAM  YOU TUBE  FACEBOOK
With the fuel of Country, Southern rock and Delta blues pumping through his veins, CJ Solar is a natural at fusing all of his influences with pure musical talentand vocal chops into a badass new sound. Already turning heads in Nashville,Baton Rouge and beyond, having been named one of the "New Artists You NeedTo Know" by Rolling Stone Country, and racking up over four million streams on Spotify, Solar says the driving force behind his untimely success isn't fame nor fortune – it's just a diehard infatuation with the music he grew up on.
Solar has released two popular EPs and just dropped his "Coming My Way"single and music video from his upcoming third EP of the same name on Sea Gayle Records.
His five-song Get Away With It EP was released in 2018, and he co-wrote all of the songs with the likes of Bob DiPiero, Rick Huckaby, Michael Hardy and others. Both singles from the EP, "Airplane" and "American Girls," hit #15 and were two of the highest charting singles from an independent artist. Rolling Stone Country listed "Airplane" as one of their "10 Best Country and Americana Songs of the Week."
The chart success of both singles led to CJ being named "Independent Artist of the Year" at the 2019 Annual Music Row Country Breakout Awards ceremony and being nominated for "Breakthrough Artist-Writer" at the 2019 Music Row Awards.
Solar's critically-acclaimed debut EP, Hard One to Turn Down, hit in 2016, andThe Daily Country wrote, "Solar injects a hefty (and welcome) dose of Southernrock into his country, which melds perfectly with his gravelly vocals." The Shotgun Seat welcomed the EP as "the perfect pairing of country storytelling and rocking rhythms, married by his dynamic vocals." His "Tallboy" single garnered over twomillion streams on Spotify, and the music video hit #1 on the fan-voted CMT 12 Pack Countdown after spending 13 weeks in the countdown. The follow up single,"Just Another Day in the Country," was one of the fastest rising and highest charting debut singles for an independent artist.
In a business of dreams, one of CJ's biggest ones came true on September 7, 2019 when he was invited to make his debut appearance on the Grand Ole Opry.The appearance held special significance to CJ. At the age of 12, CJ, his parentsand two brothers attended an Opry show while on a family trip to Nashville. Dierks Bentley, Brad Paisley and Blake Shelton performed that night, and CJ made the quality decision to follow in their footsteps.
CJ celebrated his first #1 country single as a songwriter with Morgan Wallen's "Up Down" smash hit featuring Florida Georgia Line. The song garnered CJ an ASCAP Award and the Nashville Songwriters Award for "10 Songs I Wish I'd Written." He co-wrote Jason Aldean's "I Don't Drink Anymore," Jerrod Niemann's Top 30 single "Blue Bandana" and "The Regulars" and Justin Moore's "Between You & Me." He also had writing credits on Mike Ryan's "Damn Good Goodbye" and Kyle Park's single, "What the Heaven," which hit #1 on the Texas regional radio chart.
A road warrior at heart, CJ is growing his fan base opening for such artists as Chris Janson, Gary Allan, The Cadillac Three, Old Dominion and even his heroes like Lynyrd Skynyrd, 38 Special and Hank Williams, Jr., as well as headlining his own dates across the country.
"I just want to write songs that say something that really means something. I want to ride around in a van, tour the country, and play songs with my buds.Everything I do in music, I want to do it for the love of the music and the sake of the song."