CREEK WEEK DEALS
April 2, 2019

-

April 7, 2019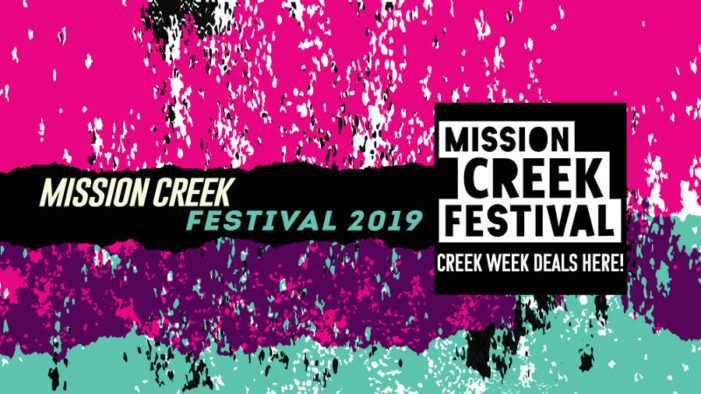 Beadology
220 E Washington St. (across from the Englert)
Our community's full service bead store since 1987, offering finished jewelry and a diverse spectrum of beads, supplies, and tools. "We play great music daily!"
10% off for Mission Creek pass and ticket holders
Bread Garden
225 S. Linn St. (ped mall)
Bustling market with groceries, salad bar and hot buffet, made-to-order deli items, wine and craft beers, coffee bar, and ample outdoor patio seating
10% off storewide for passholders
Brix
209 N Linn St. (Northside Market)
Top-notch cheese shop & wine bar with a cozy, candle-lit atmosphere
For pass holders and ticket buyers, during Creek Week:
All Day, All Night Cheese! FREE CHEESE with purchase of a glass of wine, any time during business hours
For everyone, all the time:
Night Cheese: FREE CHEESE with purchase of a glass of wine, 9pm-close Thursdays, Fridays, and Saturdays
Dandy Lion
111 S. Dubuque St. (ped mall)
Serving up delicious twists on American and Southern brunch classics, locally roasted coffee, and hand crafted cocktails
10% off meals for Mission Creek pass-holders and artists
El Banditos Iowa City
327 E. Market St. (Northside Market)
Handmade Mexican food, created from family recipes and local ingredients
20% off for pass-holders and artists
Focus by Discerning Eye
218 E. Washington St. (across from the Englert)
A selection of affordable, on-point eyewear in the lower level of Discerning Eye Optical
$50 off any Focus frame (regularly $99) or complete pair (regularly $165)
Film Scene
118 E. College St. (ped mall)
Iowa City's own nonprofit cinema, dedicated to the presentation of film as art–not to mention they have a great beer selection and a rooftop patio
Specials for pass holders: Member pricing ($6.50) for movie tickets, FREE popcorn, and $1 off all drinks
Goosetown Cafe
203 N. Linn St. (Northside Market)
One of Iowa City's tastiest new options, offering breakfast & brunch (except Tuesdays) and Thursday, Friday & Saturday dinner
$5 Bloody Marys & Mimosas if you mention Mission Creek
Java House & Heirloom Salad Company
All locations including downtown location at 211 E. Washington St.
Top-notch espresso, tea, brew bar, baked goods, soups, and made-for-you salads
10% off with your Mission Creek pass or ticket
NoDo – Downtown + Northside
5 S. Dubuque St. + 600 N. Dodge St.
Delicious soups, sandwiches, salads, coffee, espresso, baked goods & free Wifi
Mention Mission Creek and get FREE fries with the purchase of any full-size sandwich, wrap, or salad
Oasis Falafel
206 N. Linn St. (Northside Market)
Iowa City's best falafel, hummus, and fries–and many more delicious Greek and Mediterranean specialties. "Hummus Where The Heart Is."
15% off for pass holders / 20% off for MCF2019 artists
Prairie Lights Books & Cafe
15 S. Dubuque St.
The City of Literature's favorite independent booksellers since 1978–now with (really tasty) espresso and wine
10% off storewide (including coffee shop) for pass holders. 25% off hardcover books by Mission Creek authors.
Pullman Bar & Diner
17 S. Dubuque St.
Cozy, upscale diner offering updated comfort fare with a local twist, plus craft cocktails and beers
TUES: Pullman Dinner with Executive Chef Ben Smart and Former Executive Chef Sepehr Sadrzadeh. (Ticketed event – see our Facebook page)
WED: All-Day Mission Burger (Pullman Burger + Shot of Shorts Whiskey + Domestic Tall Boy for $10)
THUR: Chef's NIght out – Late-night street food starting at 10 pm
FRI: Late-night Mission Ramen: (House Ramen + Shot of Shorts Whiskey + Domestic Tall Boy For $15) starting at 10 pm
SAT: Late-night Jazz Brunch: (Jazz Band playing while serving Brunch Menu) starting at 10 pm
Quinton's Bar & Deli
215 E. Washington St. (right next to the Englert)
Burgers, fries, deli sandwiches, and other hearty American bar fare favorites with a generous selection of beers
Happy Hour specials daily, plus Mission Creekers get 25% off your tab!
RAYGUN
132 E. Washington St. (NEW location!)
Wry printed clothing and items made by extremely witty and attractive Midwesterners
10% off storewide for anyone who mentions Mission Creek
Record Collector
116 S. Linn St.
An actual record shop, open since 1982 selling used CDs/cassettes, and used/new vinyl
10% off for passholders. Get vinyl from your favorite artists in our special Mission Creek-featured section–and remember Record Store Day is April 13!
REVIVAL
117 E. College (Ped Mall)
Eclectic clothing, accessories, and body care for women and men blending new, resale, and vintage finds with a modern aesthetic
15% off storewide for pass holders
Ten Thousand Villages
105 S Dubuque St. (Ped Mall)​
Nonprofit, fair-trade retailer offering handmade gifts and housewares from around the world made by artisans in developing countries
15% off storewide for pass holders
Velvet Coat
118 E. College St. (Ped Mall)
Thoughtful collection of wearable, beautifully designed fashion and accessories.
15% off for passholders and artists
Vice
114 E. Prentiss St.
Iowa City's first and only Buy/Sell/Trade Store for streetwear, vintage, and sneakers
$10 off your entire purchase if you mention Mission Creek
White Rabbit
112 S. Linn St.
Offbeat boutique with a focus towards local, handmade, vintage and new clothing, accessories, and decor
15% off storewide for pass holders
Wild Culture Kombucha
210 N. Linn St. (Northside Market)
Charming taproom for Iowa City's own full-strength kombucha brewery
$5 "Big Creek Beats" special – We created a shandy by blending Big Grove Brewery's Arm's Race Pale Ale and our Beet Orange Lime Kombucha
Yotopia: Iowa City's Original FroYo
132 S. Clinton St.
Iowa City's original self-serve frozen yogurt shop, with a rotating selection of premium frozen yogurt, toppings, and more
Buy one froyo, get one half off (discounted froyo of equal or lesser value)