"Distillations" Contemporary Juggling w/ Aerial Performance
"Distillations" Contemporary Juggling w/ Aerial Performance
May 14 @ 8:00 pm

-

9:00 pm

Free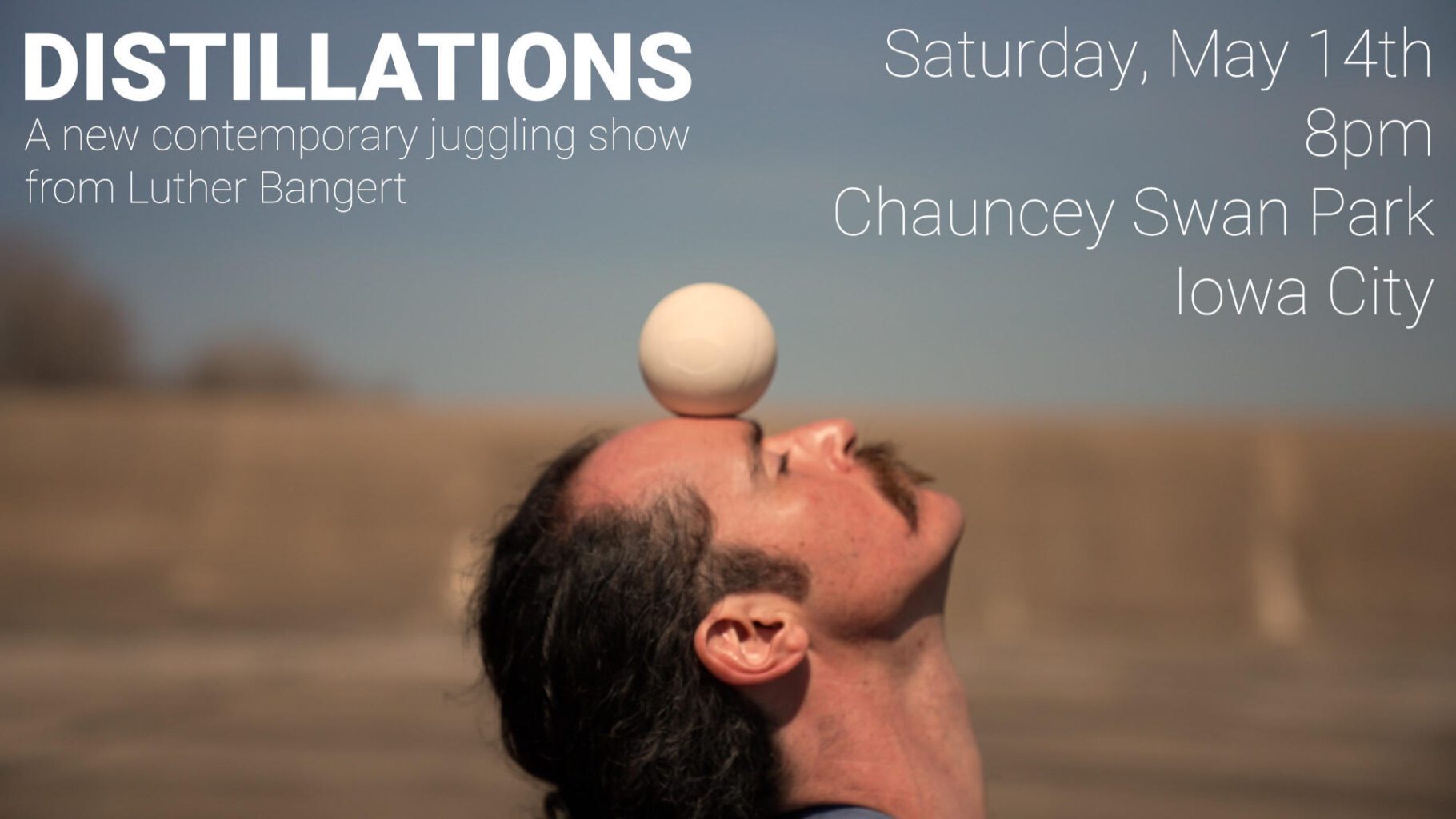 Join us on Saturday May 14th at 8 pm at Chauncey Swan Park in Iowa City for the premiere of a new juggling show from local performer Luther Bangert, 'Distillations'! There will also be an opening performance by aerialist Mimi Ke!
Distillations is a thirty minute foray into the ground state of the juggling universe. Dancing between the infinite expanse of a throw and the contraction of a catch, we are drawn into a conversation of the anatomy of a moment and the transformations inherent there.
The show is free and open to the public. This premiere location is perfect as the show features original video that will be projected above the juggling onto the massive movie screen, thanks to FilmScene.
The creation and performance of Distillations was funded by an 'Arts and Culture Resilience Grant' I received in July 2021 through the Iowa Arts Council and the National Endowment for the Arts. Thanks to them for the funding and support. And millions upon millions of thanks to my collaborators, listed below:
Alex Body – Original Music and Score
Mark Anthoney – Video Directing and Editing
Stephanie Miracle Outside Eye / Direction
Jason Smith – Filming
Pete Mullaney – Filming
In addition to this May 14th premiere, there will be two more free community performances in Iowa City the following weekend in Mercer Park (May 20th) and Willow Creek Park (May 22nd), funded through a grant from the Iowa City Public Art program. These extra shows will not featured the projected video element of the performance, but they will feature a free juggling workshop afterward for anyone interested.
See you at the shows! Please feel free to check out the Facebook event and share with anyone you think may be interested.