Edward Carey – Virtual event!
Edward Carey – Virtual event!
September 9 @ 7:00 pm

-

9:00 pm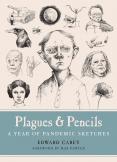 Prairie Lights Virtual – Zoom
Please join us on Zoom for a reading and conversation with former Iowa Citian, International Writing Program Resident, and Iowa Writers' Workshop Instructor,  Edward Carey, in celebration of the release of his book Plagues and Pencils: A Year of Pandemic Sketches (University of Texas Press, 2022).  Register for the event HERE.
Plagues and Pencils is the sometimes gorgeous, often strange collection of drawings done by Carey during the Covid-19 pandemic.  Each day for an entire year, Carey would complete a drawing, and post it to twitter. Carey's pencil fills the page with the marvelous and intriguing, picturing people, characters, animals, monsters, and his favorite bird to draw, the grackle. He reaches into history and fiction to escape grim reality through flights of vivid imagination—until events demand the drawings "look straight on."  Breonna Taylor, the Brontë sisters, John Lewis, King Lear, Dr. Fauci, Mikhail Bulgakov combine into a remarkable document of the artistic mind suspended during a pandemic and its politics.
Edward Carey is the author of a Prairie Lights' staff favorite novel, Observatory Mansions, as well as the novels Little, Swallowed by a Whale, and Alva & Irva.  He is also the author of plays and has written a series of books for young adults.   Carey has taught creative writing and fairy tales on numerous occasions at the Writers Workshop at the University of Iowa, and at the Michener Center and the English Department at the University of Texas at Austin. A writer and illustrator who was born in North Walsham, Norfolk, England; he currently lives and teaches in Austin with his wife, the novelist Elizabeth McCracken, and their family.