Fall of Walls Part One: Hanging Sh*t on Walls
Fall of Walls Part One: Hanging Sh*t on Walls
September 19, 2022 @ 7:00 pm

-

9:00 pm

$15 – $30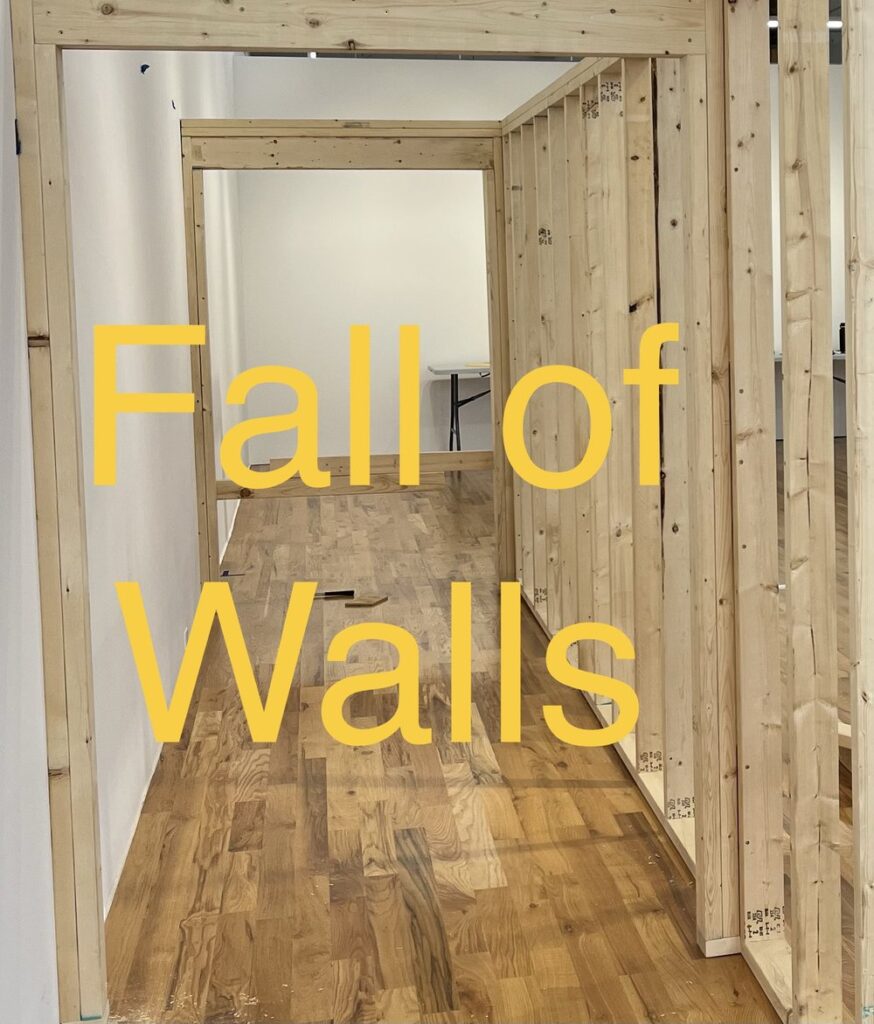 Monday, Sept. 19, 7-9pm at 229 N. Gilbert
This is the first offering of our 3-part workshop series called the Fall of Walls. These three workshops focus on skill building for hanging, repairing, and painting walls. For this edition of Fall of Walls we will be Hanging Sh*t on Walls!
Have you ever wanted to hang a piece of art or a household fixture on the wall but wondered where to start? In the world of architecture, one can find all kinds of walls made of all kinds of materials including plaster, drywall, wood paneling, brick and mortar, wattle and daub, and the list goes on… This first workshop will cover 5 primary steps used in the world of art handling/installation for walls of all kinds. These include: assessing the object, assessing the wall, choosing an anchor type, drilling, and hanging/handling artworks for safe installation. Whether you are a seasoned installer with tips to share, or a total newcomer to hanging sh*t on walls, this workshop promises to demystify installation practices, bring down the proverbial walls, and empower you to confidently tackle all of your art object hanging projects.
All are welcome, but the workshop is limited to 10 participants. RSVP below to reserve your spot.
Free for PS1 members; by donation for others. Suggested donation: $15-30.
TEACHING ARTIST:
Ongoing teaching in higher-ed, workshops, and collaborations within her creative community disposes Hannah to a theoretically engaged practice, deeply invested in learning and sharing knowledge about materials. In 2012, Hannah developed the inaugural wood and metal shops at the Reva and David Logan Center for the Arts at the University of Chicago where she also designed/fabricated for Logan Exhibitions and co-created workshops with Arts and Public Life. She has been an artist in residence at the Chicago Artist Coalition, Vermont Studio Center, 8550 Ohio, The Center for Land Use Interpretation, ACRE, and Umoja Center for the Arts in Arusha Tanzania. Her works have been exhibited nationally and internationally at venues such as The Cultural Center in Arusha Tanzania, The Banff Centre, 4th Ward Project Space, Logan Exhibitions, Chicago Artist Coalition, Riverside Art Center, Flatland Gallery, and DEMO Projects. These experiences have fostered work that varies in scale, often taking the form of architectural installation, sculpture, sound, and the collaborative organization of conversations and events.