Family Night: Author Visit/Sewing Project w/ Michelle Edwards
Family Night: Author Visit/Sewing Project w/ Michelle Edwards
February 17 @ 4:00 pm

-

5:00 pm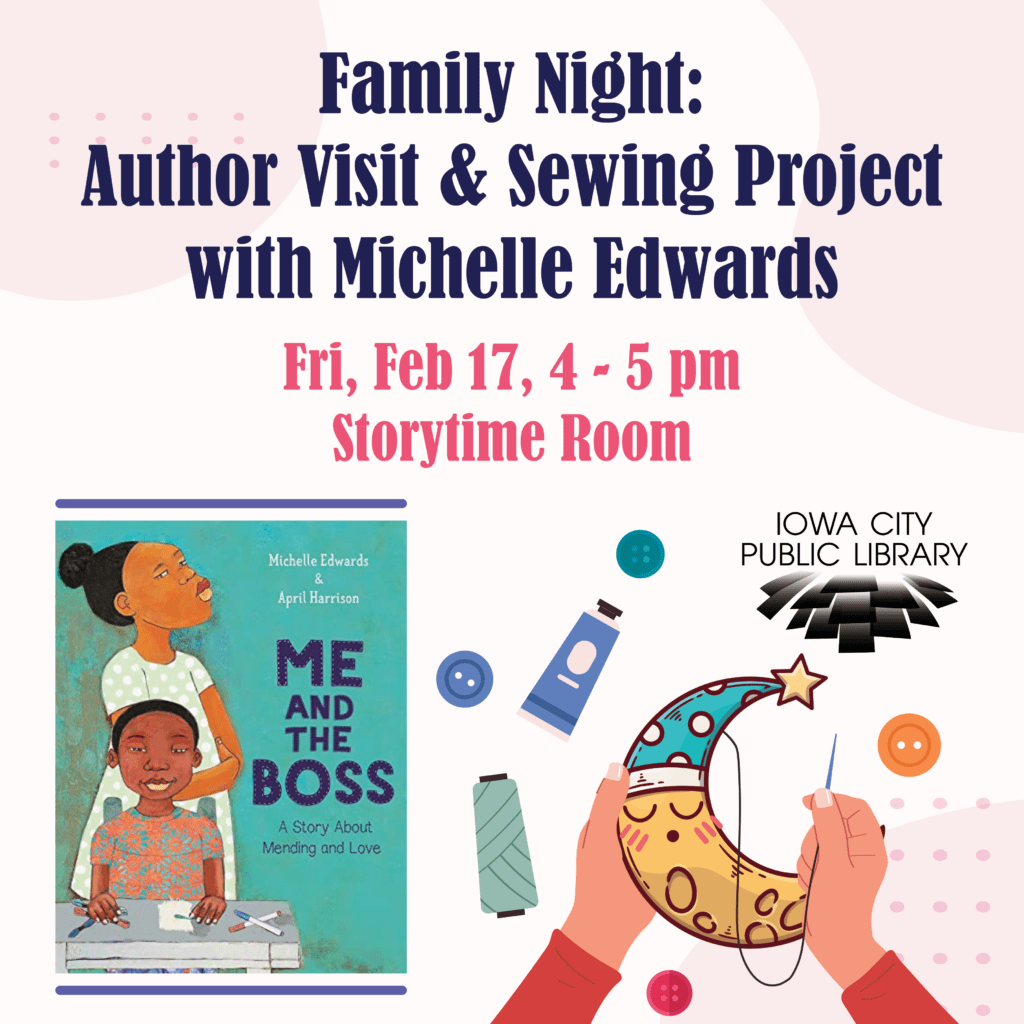 Friday, February 17, 2023 –4:00pm to 5:00pm
Local Author Michelle Edwards will be visiting ICPL to share her newest book Me and the Boss: a Story about Mending and Love, a funny and oh-so-true portrait of a brother and sister's relationship. Lee and his older sister Zora are learning how to sew at the library. Though Zora sews a beautiful flower on her cloth square, little Lee makes a mess out of the half-moon he is trying to stitch! Come to the library to find out what happens in the story and to learn how to sew your own moon stitiching from Michelle herself! All ages are welcome to attend with parents to assist with the sewing project.
本地作家米歇尔·爱德华兹 (Michelle Edwards) 今天来到图书馆分享她的新作《我和老板:缝缝补补与爱的故事》,这个故事描述了真实而有趣的兄妹关系:李和他的姐姐佐拉​​参加了图书馆的缝纫活动,佐拉在她的方巾上缝了一朵美丽的花,而当李想缝上一弯半月的时候却搞出了乱子!一起来了解这个故事,并和米歇尔一起学习怎样自己缝制月亮!本活动欢迎各年龄段参与,缝纫活动需由父母协助。
La autora local Michelle Edwards visitará ICPL para compartir su libro más reciente Me and the Boss: a Story about Mending and Love, un retrato divertido y muy real de la relación de un hermano y una hermana. Lee y su hermana mayor Zora están aprendiendo a coser en la biblioteca. Aunque Zora cose una hermosa flor en su cuadrado de tela, ¡el pequeño Lee hace un desastre con la media luna que está tratando de coser! ¡Ven a la biblioteca para descubrir qué sucede en la historia y para aprender a coser tu propia costura de luna de la mano de la propia Michelle! Todas las edades son bienvenidas para asistir con los padres para ayudar con el proyecto de costura.
If you need disability-related accommodations in order to participate in this event, please contact the Library.
This event is open to the public.