Femmedecks
July 1 @ 9:00 pm

-

July 2 @ 12:30 am

$10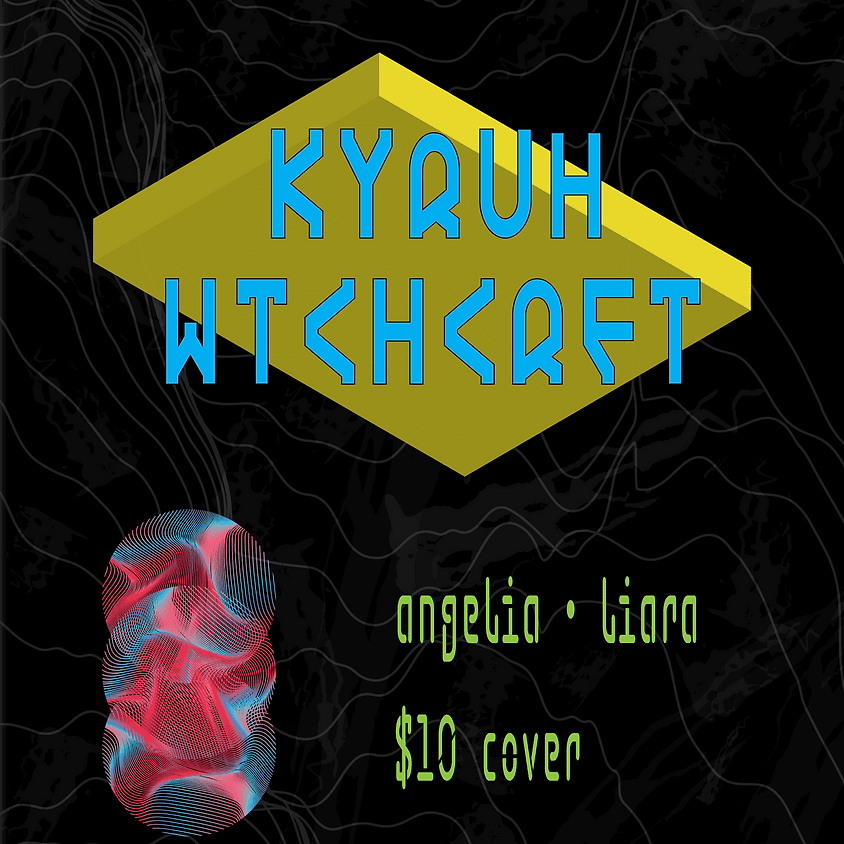 ■$10 cover■
■COVID■ Vaxxed or neg covid test.
■SAFETY■ Respect eachother's boundaries!!! If anyone is bothering you or refusing to respect your boundaries in any way, please let Angelia and any available employee know. We will take care of the situation. There is a zero tolerance policy for harrassment of any kind!
DJS:
■KYRUH■
Native to Brooklyn, New York, KYRUH is no stranger to hard, gritty, and high caliber techno. A purgative, high energy raver turned DJ, her style has punched through many hearts. She is known for her immersive performances and breakneck speed-mixing that can't help but make a crowd put their phones down. Her recent HÖR Berlin set accumulated over 14,000 views demonstrating her lively, frenetic energy. She has proven to be one of the city's bright new artists and has already made rounds at some of the best parties in NYC, including UNTER, BASEMENT, and Elsewhere. While she approaches her craft with determination, she also engages the crowd with humor and unrelenting joy. With her hardened textures and cathartic release, she's a techno voice to be reckoned with. Kyruh has quickly emerged as a NYC must see. Her regular appearances at BASEMENT and around the city are relentless statements of intent, wringing every drop of energy from her audiences.
Her goal = to set the world on fire and let people know that, "Black women love the rave too. Black women orchestrate the dance floor. We make it fun for everyone and I want to be a part of the unspoken legacy."
■WTCHCRFT■
WTCHCRFT has the best part of a decade's production under his belt, shifting genres and styles making him hard to pin down & define – but with the constant thread of techno throughout. Not surprising, considering his background "my mom is from the Dominican Republic and my dad is Jamaican so I grew up listening to a lot of island music, bachata, reggae, reggaeton, merengue etc. But in my own musical excursion I found a lot of comfort in metal music, progressive rock, math rock, stuff I still listen to to this day". Putting down roots in New York City a few years ago, he now runs with the Sorry Records crew, hosting a weekly ambient and classical show with label boss Nick Boyd on Newtown Radio in Brooklyn.
WTCHCRFT came to a lot of people's attention with a series of three acid-themed EPs released on Bandcamp during the pandemic. "EP 1 was really just me experimenting with the genre and how I could interpret It while trying to find my own sound, EP 2 is a lot more intentional in its themes and features more of my vocals. The theme mostly being police violence and killings of black men in the USA…ACAB Acid I made as a reaction to the history of racism that is ingrained in America and the police force, I decided to donate all of the proceeds from that song as well."
■Angelia■ Co-founder of Femmedecks, Angelia is a DJ, dancer, choreographer, live visual artist and curator. Having been Djing for almost 3 years, Angelia is new to the art of mixing but a veteran on the dancefloor. She cultivates atmospheres utilizing genres ranging from lofi and deep house to minimal techno, acid, electro, and breaks.
■Liara■
"Liara Kaylee Tsai (Previous stage name: Vutall) is an electro/techno DJ who has been performing since 2012. She started in Tucson Arizona with the J.A.M. family, and then moved to an online radio station, EVE Radio. In 2016 she moved to Madison, WI and founded Frequency Underground. In 2019 she moved to New York and focused on her production work, and is now living and performing in Iowa City as of 2021 with the organization femmedecks.
She has shared the stage with some of the following artists: Centrific (Minneapolis, MN), Fortune (Milwalkee, WI), Jared Perez (Madison, WI), E.Android (Tucson, AZ), MIRK (Albay, NY), DJ Speedsick (Chicago, IL)
Her signature sounds are broken beats and acid lines."
in conjunction with this event, An Artist Talk "Discussions with KYRUH & WTCHCRFT" at Public Space One.