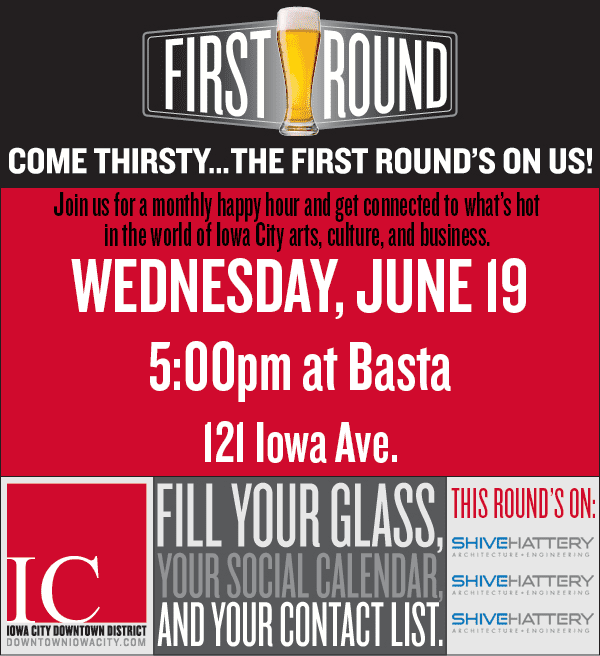 Join us on Wednesday, June 19th, 2019 at Basta! The event will begin at 5:00pm and our host, Vero Rose Smith, from the UI Stanley Museum of Art, will begin interviewing guest speakers around 5:30pm. Get the opportunity to meet new people, socialize, and see what's new in arts, business, and culture in our community. June's first round is on Shive-Hattery so come say hi and have a drink! 🍻
Tammy Neumann, from the Iowa City Parks and Recreation Department, will be joining us as a guest speaker. As the coordinator for the Iowa City Farmer's Market, she will discuss the role the market plays in the local community and her role in bringing it to life every season.
Joining Tammy will be the new Nighttime Mayor from the Iowa City Downtown District, Joe Reilly. A 15-year resident of Iowa City, he will be tasked to expand the downtown's role in championing a strong night economy through targeted marketing initiatives, leading the newly formed Arts & Cultural Council for the Downtown District, and working directly with downtown hotels and conferences. Joe will also be working in partnership with Think Iowa City for his role. We invite you to come say hello, meet our guest speakers, and learn a little more about them and what they do.
🚘 **Recommended parking will be along the street meters. The closest parking ramp will be the Tower Place Parking Ramp located only a 3-minute walk to Basta!