Foiling Studio Group
July 23, 2022 @ 1:00 pm

-

4:00 pm

|

Recurring Event

(See all)

One event on September 10, 2022 at 1:00 pm

One event on September 17, 2022 at 1:00 pm

One event on September 24, 2022 at 1:00 pm

$20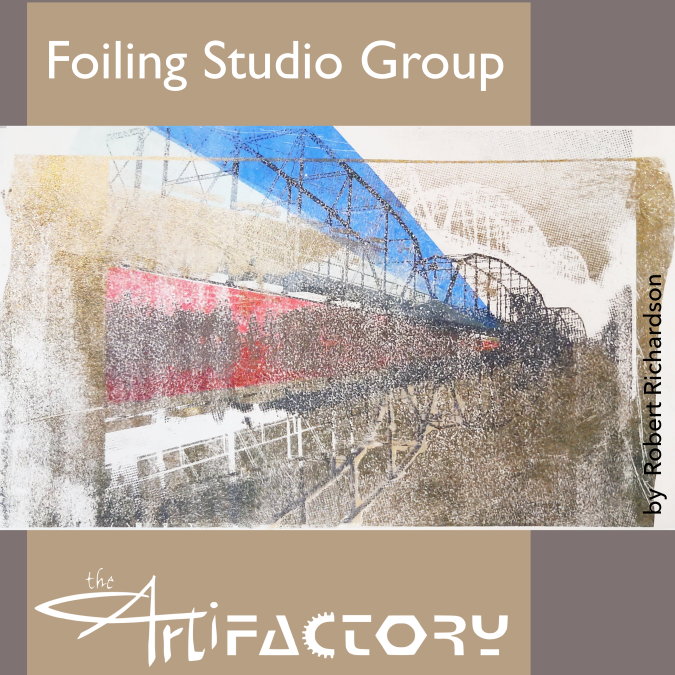 The ArtiFactory is offering an opportunity to explore the world of fine art hot stamped foiling. The Foiling Studio Group will be an ongoing studio group open to both new foilers and those with past experience. Deanne Wortman and Robert Richardson will guide you through the many aspects of hot stamped foiling. Plan on taking multiple sessions to take your foiled prints from start to finish. Sessions do not need to be consecutive. Continue making additional prints by signing up for these ongoing sessions.
What is Hot Stamped Foiling?
Professor Virginia Myers of the University of Iowa pioneered the use of hot stamped foil in fine art printmaking. Foil stamping is the application of metallic, matte, glossy, and holographic textures and foil onto materials such as plastics, paper, and card, using heat and pressure. It is used in the printing industry on greeting cards, packaging, book covers and for security purposes. Many crafters have also adopted this unique media. Basically, the foil bonds to polymers that are applied to your work of art in a variety of ways. Stencils can be used to manipulate the foils. Inks, acrylic paintings and watercolors can also be added to your artwork. In addition, foils bond to laser printed (Xerox) images that can be introduced into the mix. The end result is a piece that can have iridescent or metallic qualities that cannot be achieved any other way.
Find out more by clicking on these links:
$20 per session  (ink, foil & 1-10″x13″ domestic etch paper included)
Additional Printmaking Materials
additional $5 for 1-8″x10″ Plexiglas plate and 4-10″x13″ domestic etch paper
additional $5 for 8-10″x13″ domestic etch paper
Limited to 6 participants
We still ask that everyone please wear a mask and maintain a social distance during this event to be on the safe side. We can decide as a group what our comfort level is. Also, do not bring food to share. You may bring your own snacks and beverages.