FUZE Afro Latin Dance Fest 2019
FUZE Afro Latin Dance Fest 2019
September 12, 2019 @ 9:00 pm

-

September 15, 2019 @ 11:30 pm

$25 – $125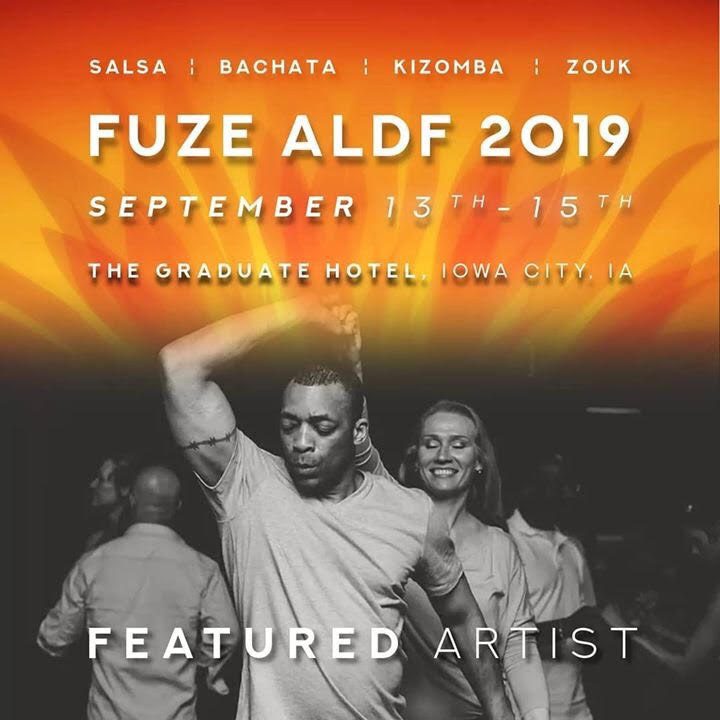 Join us for FUZE Fest, Iowa's Premier Afro Latin Dance Festival, September 12-15th at the Graduate Hotel in downtown Iowa City.
Featuring over 20 acclaimed instructors and artists from around the world in Salsa, Bachata, Kizomba, Zouk and Tango, FUZE Fest 2019 offers dancers of all levels opportunities to learn, explore and celebrate Afro-Latin dance.
Hone your skills during the day in world-class workshops, dance the night away at exclusive parties featuring live DJ's, multiple dance rooms, and performances by our visiting artists. All in the heart of Iowa City at the Graduate Hotel this September 12-15th 2019.
Visit the FUZE Afro Latin Dance Fest 2019 Facebook page for more info.
https://www.facebook.com/events/308602176569280/
A variety of passes for FUZE Fest 2019 can be purchased at:
https://iowalatindance.regfox.com/fuze-afro-latin-dance-festival-2019?fbclid=IwAR0LA3GWvED_MwHWLVSDEMIhUxwfEpna-Agi9dN4-K1DlY49YGbFtWEPKmo
The FUZE Afro Latin Dance Coalition adheres to a code of conduct for creating and maintaining a safe, aware and inclusive environment for all participants and events.