Godspeed You! Black Emperor
Godspeed You! Black Emperor
November 5 @ 7:30 pm

-

10:00 pm

$23 – $42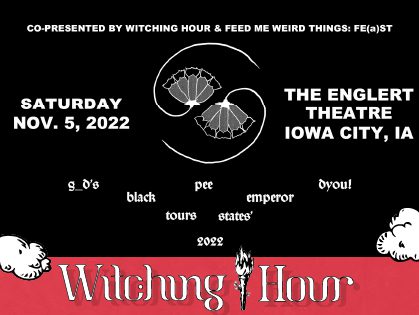 Co-Presented by Witching Hour & Feed Me Weird Things: FE(a)ST
with Marisa Anderson

Presented by Little Village Magazine & The Englert Theatre
Sponsored by: ReUnion Brewery, Rylan and Ross DeValois of MidAmerica Securities, MidAmerican Energy, Phoebe Martin (REALTOR), Goodfellow Printing, Iowa Arts Council / Iowa Department of Cultural Affairs, National Endowment for the Arts, Think Iowa City, Iowa City Downtown District, Marcus-Fitzpatrick Team Blank & McCune, & University of Iowa Libraries.
PLEASE READ before purchasing tickets:
On-Sale Schedule
Members Pre-Sale: Thursday, 6/2 @ 10:00 AM – 10:00 PM CT
Public On-Sale: Friday, 6/3 @ 10:00 AM CT
Event Schedule
6:30 PM – Doors Open & Seating Begins
7:30 PM – Show
Members
If you are a member of the Englert and have a promo code, please click "Add Promo Code" before choosing your seats. Not a member? Get access to advance ticketing (and more!) by becoming a member of the Englert. 
CLICK HERE 
to learn more.
Ticket Options
$37.50 + Fees – General Admission
$32.00 + Fees – General Admission (Members)
$20.00 + Fees – General Admission (Student w/ ID)
Show Description
Godspeed You! Black Emperor released a string of albums from 1997-2002 widely recognized as redefining what protest music can be, where longform instrumental chamber rock compositions of immense feeling and power serve as soundtracks to late capitalist alienation and resistance. The band's first four releases—especially F#A#? (1997) and Lift Your Skinny Fists Like Antennas To Heaven (2000)—are variously regarded as classics of the era and genre. Godspeed's legendary live performances, featuring multiple 16mm projectors beaming a collage of overlapping analog film loops and reels—along with the distinctive iconography, imagery and tactility of the band's album artwork and physical LP packages— further defines the sui generis aesthetic substance, ethos and mythos of this group. GY!BE has issued two official band photos in its 25-year existence (the second, left, a 2010 recreation of the first from 1997) and has done a half-dozen collectively-answered written interviews over that same span. The band has never had a website or social media accounts. It has never made a video. Few rock bands in our 21st century have been as steadfast in trying to let the work speak for itself and maintaining simple rules about minimising participation in cultures of personality, exposure, access, commodification or co-optation.
Following a seven-year hiatus that began in 2003, Godspeed returned to the stage in December 2010 (curating the UK festival All Tomorrow's Parties) and the band's post-reunion period has now lasted over a decade, marked by hundreds of sold-out live shows and three additional albums, all of which have been met with high acclaim.