Haley Reinhart
September 15, 2022 @ 7:30 pm

-

10:30 pm

$23 – $46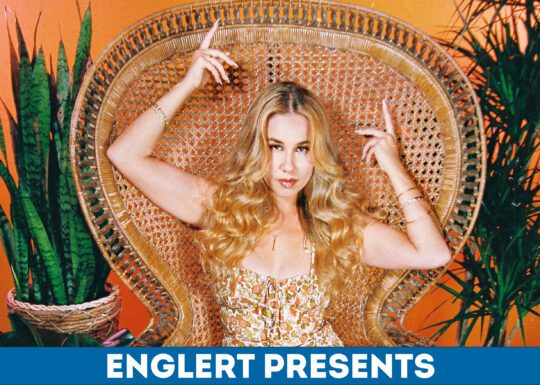 With Charlotte Blu
Meet Haley Reinhart! Meet & Greet tickets are now available HERE. Please note: M&G tickets do not include admission to the performance. Patrons must also purchase a separate ticket for the show.
PLEASE READ before purchasing tickets:
On-Sale Schedule
Members Pre-Sale: Tuesday, July 19 @ 10:00 AM CT
Public On-Sale: Wednesday, July 20 @ 10:00 AM CT
Event Schedule
6:30 PM – Doors Open & Seating Begins
7:30 PM – Show
Members
If you are a member of the Englert and have a promo code, please click "Add Promo Code" before choosing your seats. Not a member? Get access to advance ticketing (and more!) by becoming a member of the Englert. 
CLICK HERE
 to learn more.
Ticket Options
$40 + Fees – Reserved Seating
$30 + Fees – Reserved Seating (Members)
$20 + Fees – Reserved Seating (Student w/ ID)
Show Description
A timeless voice outlasts eras. It feels just as at home in the sixties as it does in the TikTok age. It also resounds louder as time goes on. Haley Reinhart brandishes such a voice. The expansive scope of her range comes into full focus on her 4th album, Lo-Fi Soul. In many ways, Haley began working towards this album and her artistry as a child. Mom and dad share a "Midnight Band," and unsurprisingly, their daughter would sing before she could talk. She spent countless hours engaged in rhyming games with her mother or locked into a call-and-response as a baby with her father.
In 2009, Haley was the first songstress ever to join her high school jazz band where they performed at both Montreux and Umbria jazz festivals. Her fascination with all things classic continued as she became a fan of The Beatles and Janis Joplin, to Ella Fitzgerald and Sly & The Family Stone. These influences also led her to record a full album at Sunset Sound, paying homage to classic rock and pop hits from the late sixties titled, What's That Sound. Haley plays regularly with Robby Krieger of The Doors among other rock legends; she continues to keep her rock 'n' roll roots intact.
The gold-certified Chicago-born/Los Angeles-based singer and songwriter exudes an empowering level of charisma and confidence earned by a quiet, decade-long grind. Haley landed third place and became a fan favorite on season 10 of American Idol. She recently returned to AI, this time as a mentor, coaching contestants singing in the Soul Genre. Her dynamic presence powered four solo albums— Listen Up! [2012] Interscope Records, Better [2016] Red Dot, What's That Sound? [2017] Concord Records, and Lo Fi Soul [2019] on her self-owned label, Reinhart Records. Haley has been known to leave her mark on countless films and commercials singing in the new Mazda ad, Chase Bank, as well as shows including Love Island, Gossip Girl, Nashville, Riverdale, The Wilds, America's Got Talent, Dancing with the Stars, and the list goes on…
About Charlotte Blue
Charlotte Blu (born Charlotte Boyer) is an amazing upcoming music artist originally from Illinois. Her music is rooted in soul/blues and inspired by artists such as Amy Winehouse, Etta James, H.E.R., and Beyonce.
At age 17, Charlotte graced the stage of NBC's "The Voice" to showcase her talent. Although she was not selected to move on in the competition, this was a defining moment that would help fuel her ambitions as an artist and songwriter.
In June of 2022, Charlotte released her first EP entitled, The Colors of You. It features songs that embody her experiences as a teen. Charlotte wrote this album to encourage people to be okay with who they are and with hopes that her music helps those battling mental health and social anxieties. She currently has three singles, Warriors, Not Alone, and her EP's first single High On My Feet.