[Hands-On] Wood-Fired Pizza
[Hands-On] Wood-Fired Pizza
February 18 @ 6:00 pm

-

8:00 pm

$64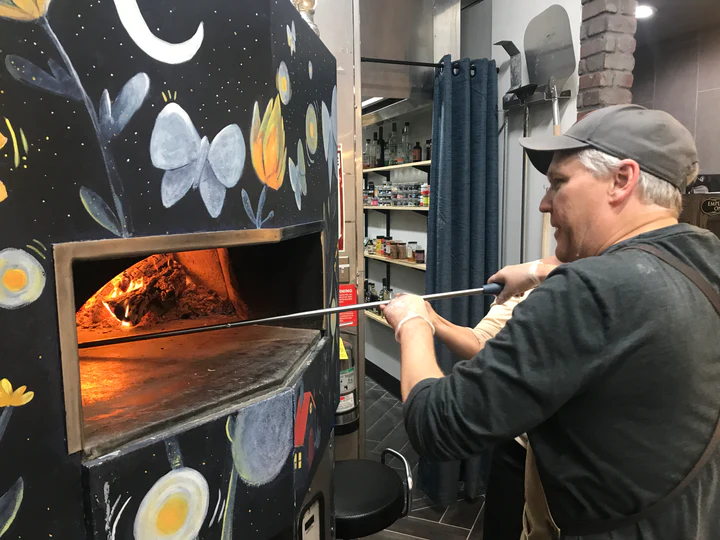 We will fire up the PKS wood-fired pizza oven for this hands-on class! You will learn how to make dough from scratch, shape the pizza, top the pizza and bake it in a wood-fired pizza oven.
If you're considering adding an outdoor pizza oven to your backyard, or you want to learn some tips and techniques for home pizza making, this is the class for you.
This is a hands-on class where each guest will shape and top a pizza for baking. Each guest will also make their own batch of pizza dough to take it home in a handy Cambro storage container.
Class Type: Hands-on with lots of pizza eating and drinks of your choice (beer/wine/iced tea). Each guest will take home pizza dough in a Cambro container along with recipes.
Date & Time: Saturday, Feb. 18, 6-8PM
Seating Available: 6 counter seats
PKS Co-Owner Kevin Felker will share the secrets he has learned from hosting pizza parties and cooking in a wood fired oven, including:
How to make an easy homemade pizza sauce
How to make a no-fuss 72 hour no-knead, cold fermented dough that can be used for thin crust and pan pizzas
How to top your pizza and select your toppings for a party
How to launch a pizza with a peel
Examples of pizzas we ate and made in previous classes (selections will vary based upon market availability):
Calabrian chili, onion, mozz,, red sauce, pan crust
Preserved lemon, mozz, goat cheese, za'atar, evoo, thin crust
Roasted wood fired mushrooms, mozz, gruyere, red sauce, homemade serrano ranch, thin crust
All food and drink is prepared and served in a kitchen that contains animal products, gluten, nuts, and other potential allergens. Items on class menus can not be made-to-order, so substitutions are not available.
About the instructor
Kevin Felker, co-owner of PKS, will lead this fun class. Kevin hosts regular pizza parties in his own home, and often takes his pizza tools on the road to friends and families homes for pizza parties.