Heather Altfeld and Troy Jollimore
Heather Altfeld and Troy Jollimore
October 19 @ 7:00 pm

-

9:00 pm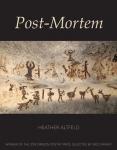 Prairie Lights Bookstore
Please join us for a reading with Heather Altfeld and Troy Jollimore. Heather will read from her book Post-Mortem (Orison Books, 2021), winner of the Orison Books Prize and Troy will read from his book Earthly Delights (Princeton University Press, 2021).
Heather Altfeld is a poet and essayist.  Her two books of poetry are Post-Mortem (Orison Books, 2021) and The Disappearing Theatre (Poets at Work, 2016). Her work is featured in the 2019 Best American Essays, Orion Magazine, Conjunctions, Aeon Magazine, Narrative Magazine, and others. She was the 2017 recipient of the Robert H. Winner Award with the Poetry Society of America and the 2015 recipient of the Pablo Neruda Prize for Poetry.
Troy Jollimore's poetry collections include Earthly Delights, Syllabus of Errors, which was chosen by the New York Times as one of the ten best poetry books of 2015, and Tom Thomson in Purgatory, which won the National Book Critics Circle Award. His writings have appeared in the New Yorker, the New York Times Book Review, McSweeney's, Kenyon Review, Zyzzyva, Conjunctions, and Best American Poetry 2020. He has received fellowships from the Stanford Humanities Center, the Bread Loaf Writers' Conference, and the Guggenheim Foundation. He is also the author of two books of philosophy: Love's Vision and On Loyalty.