How-To Tuesday: Intro to Gymnastics
How-To Tuesday: Intro to Gymnastics
June 14 @ 1:00 pm

-

2:00 pm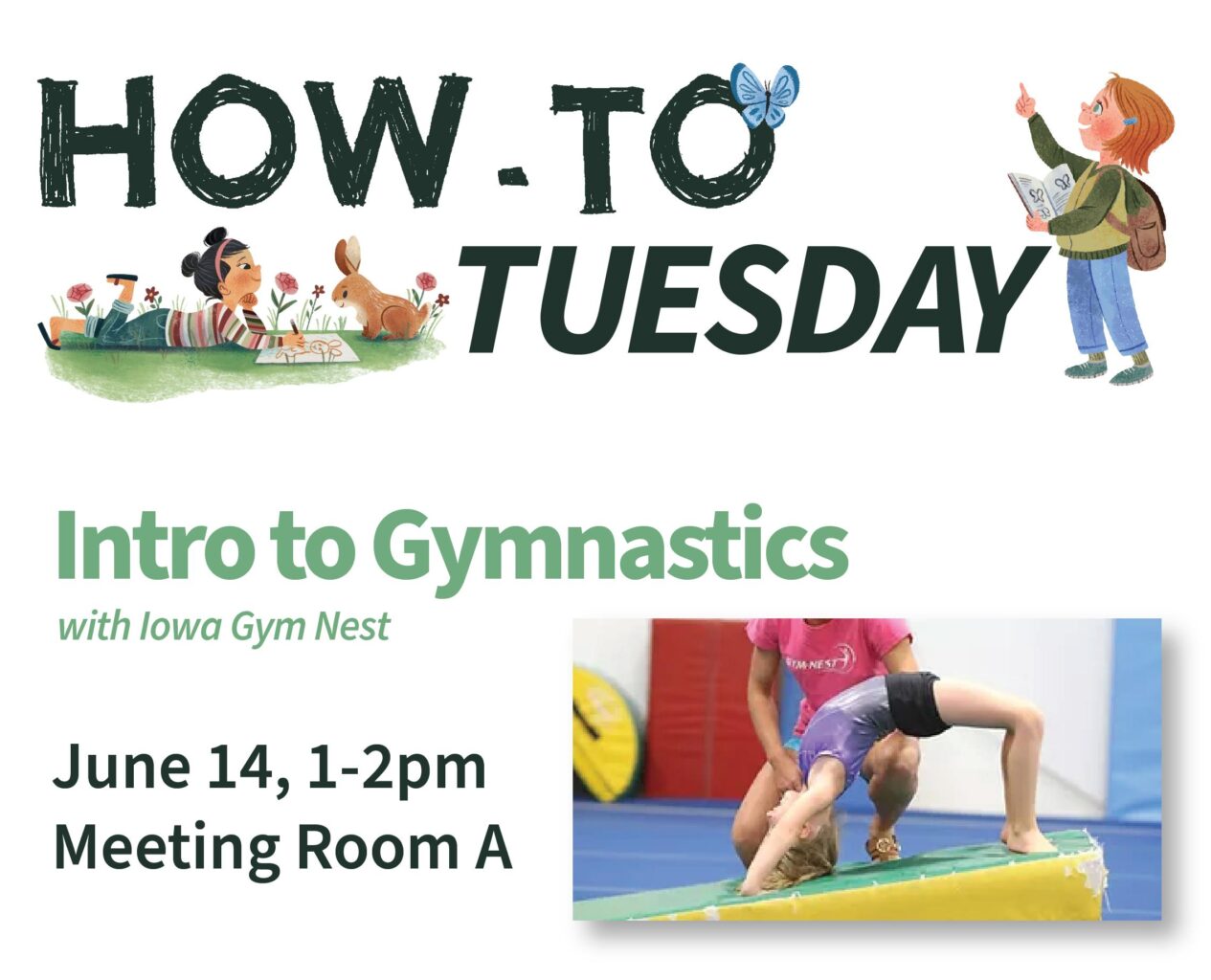 with Iowa Gym Nest
Tuesday, June 14, 2022 –1:00pm to 2:00pm
Elementary-age kids are invited to join us each Tuesday at 1:00 to learn a little bit about a fun skill or hobby that maybe they haven't tried before! We have experts from the community here to teach you the basics!
Instructors from Iowa Gym Nest will be here today to introduce some basic gymnastics skills, no prior experience necessary! Gymnastics is great for kids to develop their kinesthetic awareness, strength, flexibility, and self-esteem! First, we will warm up, then we will try out some tumbling! Wear comfortable clothes for movement!
—
¡Los niños de primaria están invitados a unirse a nosotros todos los martes a la 1:00 para aprender un poco sobre una habilidad divertida o un pasatiempo que tal vez no hayan probado antes! ¡Tenemos expertos de la comunidad aquí para enseñarte los conceptos básicos!
Los instructores de Iowa Gym Nest estarán aquí hoy para presentar algunas habilidades básicas de gimnasia, ¡no se necesita experiencia previa! ¡La gimnasia es excelente para que los niños desarrollen su conciencia cinestésica, fuerza, flexibilidad y autoestima! ¡Usa ropa cómoda para el movimiento!
周二跟我学
每周二一点我们邀请小学同学们一起学习尝试一种全新的技能或者兴趣爱好。我们有来自社区的专家教你入门!
今天来自Iowa Gym Nest 的教练们将为我们介绍一些基础的体操技巧。体操非常有助于开发孩子们的运动意识和自尊,以及身体的力量和灵活性。今天的活动我们将尝试一些热身动作和翻滚运动。请穿舒适的运动着装!
This event is open to the public.