How-To Tuesday: Intro to Karate
How-To Tuesday: Intro to Karate
June 21, 2022 @ 1:00 pm

-

2:00 pm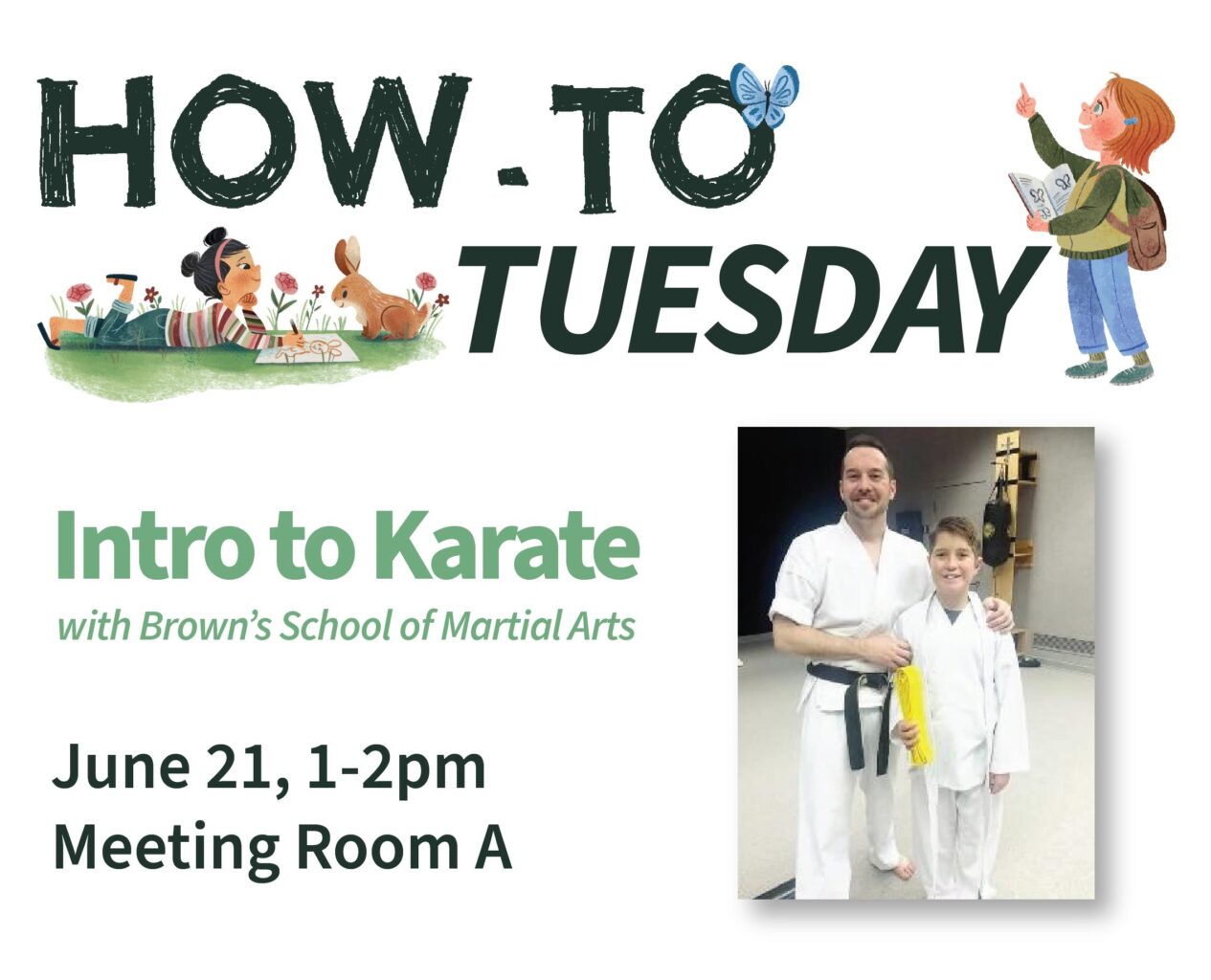 with Brown's School of Martial Arts
Tuesday, June 21, 2022 –1:00pm to 2:00pm
Elementary-age kids are invited to join us each Tuesday at 1:00 to learn a little bit about a fun skill or hobby that maybe they haven't tried before! We have experts from the community here to teach you the basics!
Have you ever been curious about practicing martial arts? Now is a great time to learn more with Ben from Brown's School of Martial Arts in North Liberty. Some of the many benefits of practicing martial arts include building a strong body, a disciplined mind, and a solid skill set. Find out today if it's a skill you would be interested in pursuing! Wear comfortable clothes for movement!
—
¡Los niños de primaria están invitados a unirse a nosotros todos los martes a la 1:00 para aprender un poco sobre una habilidad divertida o un pasatiempo que tal vez no hayan probado antes! ¡Tenemos expertos de la comunidad aquí para enseñarte los conceptos básicos!
¿Alguna vez has sentido curiosidad por practicar artes marciales? Ahora es un buen momento para aprender más con Ben de la Escuela de Artes Marciales de Brown en North Liberty. Algunos de los muchos beneficios de practicar artes marciales incluyen desarrollar un cuerpo fuerte, una mente disciplinada y un sólido conjunto de habilidades. ¡Descubre hoy si es una habilidad que te interesaría seguir! ¡Usa ropa cómoda para el movimiento!
周二跟我学
每周二一点我们邀请小学同学们一起学习尝试一种全新的技能或者兴趣爱好。我们有来自社区的专家教你入门!
你对武术感到好奇吗?今天是一个好机会可以和North Liberty布朗武术学校的 教练Ben 一起了解和学习武术。练习武术有许多好处,可以帮助我们锻炼强健扎实的身体技能和训练有素的头脑。来试试看你是否有兴趣发展这方面的技能?请穿舒适的运动着装!
This event is open to the public.