iHearIC: The Only Ion, CBE, Jennifer MacBain, Deb Tiemens @ Yacht Club
iHearIC: The Only Ion, CBE, Jennifer MacBain, Deb Tiemens @ Yacht Club
January 24 @ 8:00 pm

-

10:00 pm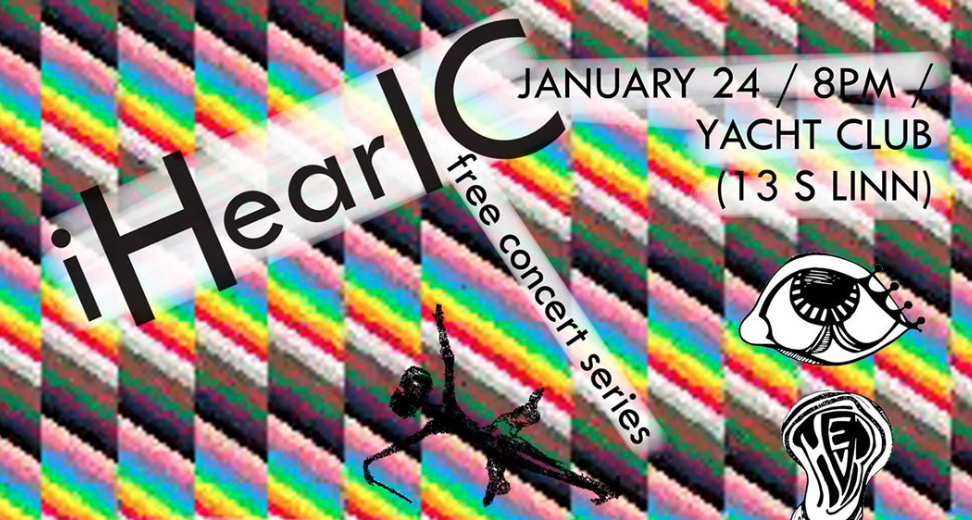 Welcome to the new decade. We're going to be doing a few shows at Yacht Club this Spring. Invite your friends and family and everyone to our January concert.
This month will feature…
The Only Ion: Employing eclectic musical styles with poetic lyricism, bordering on several musical genres, and is influenced by a number of different elements. He has shared the stage with Grieves, Ghostface Killah, PsalmOne, Sage Francis, Prof, Freddie Gibbs, Mac Lethal, Wyclef Jean, Black Milk, F.Stokes, Ceschi, Louis Logic, Dessa, Carnage The Executioner, Open Mike Eagle, Sadistik, B. Dolan & Blackalicous (theonlyion.bandcamp.com)
————————————–
Christine Burke Ensemble: made of composers, performers, and improvisers from Iowa City – this time they'll be playing music by Justin K Comer! (burkechristine.com)
————————————–
Jennifer MacBain-stephens: a writer who lives in Iowa City with her children and works at a science journal. She grew up in the Midwest and went to NYU's Tisch School of the Arts, where she studied three subjects: Drama, English, and Journalism. She has also lived in California, London, and New York, for various periods. Jennifer is the author of ten poetry chapbooks and four full length poetry collections ("Your Best Asset is a White Lace Dress" Yellow Chair Press (2016) "The Messenger is Already Dead," Stalking Horse Press (2017,) "We're Going to Need a Higher Fence," (Lit Fest Press,) and The Vitamix and the Murder of Crows, (Apocalypse Party Press.) She is also the author of a few non-fiction books from a long time ago when she used to work at Rosen Publishing and Scholastic Inc. in New York City and she'd see Ric Ocasek on the subway. She also makes collages and likes to take photographs. (jennifermacbainstephens.wordpress.com)
————————————–
Music by Deb Tiemens: a combination of original songs and favorite covers in her trademark acoustic ballad style. "Heartwarming!" "What a voice – highly recommended if you appreciate honesty, integrity and talent." (store.cdbaby.com/cd/tiemens)
Show starts at 8! iHearIC is always free!
To find everything iHearIC, visit ihearic.com.
Listen to the radio show almost every Sunday at 3pm on KRUI 89.7 FM (krui.fm). The back catalog is available on all podcast platforms.
Featured on the curated Spotify playlist ListenICJanuary2020 by the Iowa City Nighttime Mayor