IWP Online Faculty Reading – Crafting the Future
IWP Online Faculty Reading – Crafting the Future
October 25 @ 11:00 am

-

12:30 pm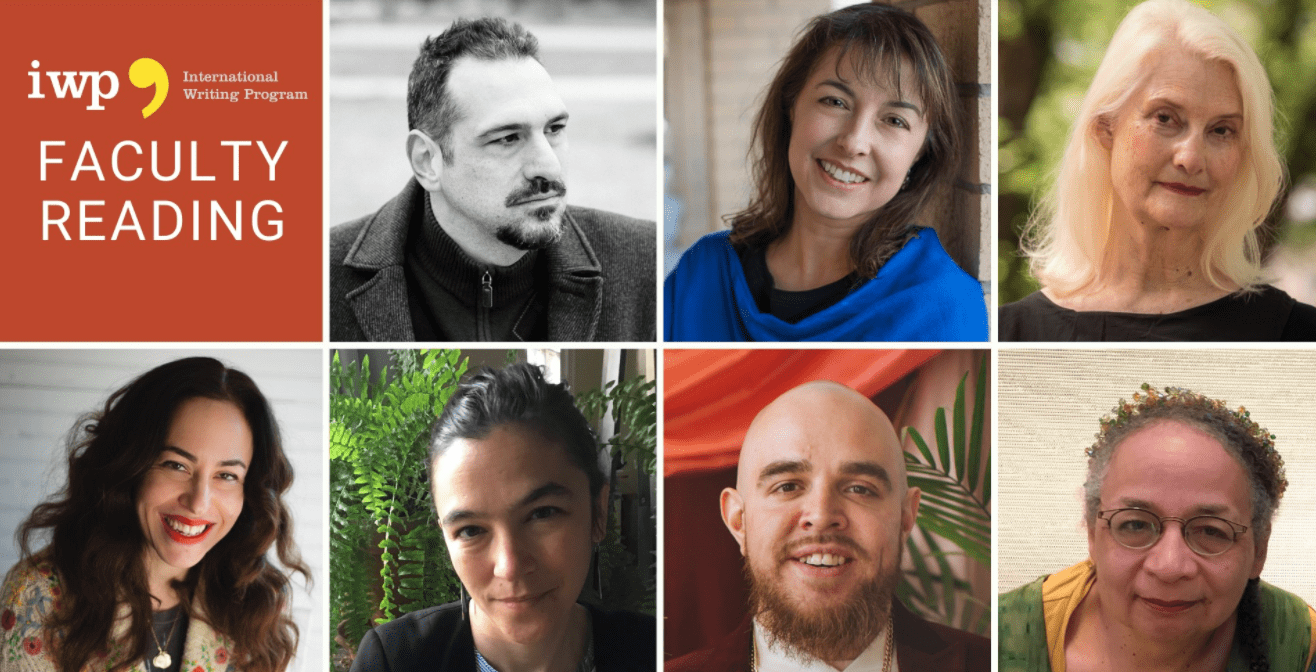 The International Writing Program (IWP) presents award-winning authors Nisi Shawl, Terese Svoboda, José Olivarez, Joyelle McSweeney, Sabrina Orah Mark, Juan Vitulli, and Maria Melendez Kelson, sponsored by The Arts Envoy Program of the U.S. Department of State, hosted by
Prairie Lights Bookstore
on Sunday, October 25, at 11am CT.
These seven writers are current faculty for the IWP's Crafting the Future course on speculative writing. Crafting the Future brings together U.S. authors and participants in Argentina, Bolivia, Ghana, Guatemala, Iraq, Mexico, and Poland for a creative writing and cultural exchange session sponsored by The Arts Envoy Program of the U.S. Department of State. The writing workshops led by this esteemed panel of authors highlight speculative forms of writing including poetry, fiction, science fiction, and fantasy, giving participants creative ways to imagine some of the futures that might emerge from the pandemic. Please join IWP's international workshop participants for this reading!
José Olivarez is the son of Mexican immigrants. His debut book of poems, Citizen Illegal, was a finalist for the PEN/ Jean Stein Award and a winner of the 2018 Chicago Review of Books Poetry Prize. It was named a top book of 2018 by The Adroit Journal, NPR, and the New York Public Library. Along with Felicia Chavez and Willie Perdomo, he is a co-editor of the anthology The BreakBeat Poets Vol. 4: LatiNEXT. He is the co-host of the poetry podcast The Poetry Gods. In 2018, he was awarded the first annual Author and Artist in Justice Award from the Phillips Brooks House Association and named a Debut Poet of 2018 by Poets & Writers. In 2019, he was awarded a Ruth Lilly and Dorothy Sargent Rosenberg Poetry Fellowship from the Poetry Foundation. His work has been featured in The New York Times, The Paris Review, and elsewhere.
Sabrina Orah Mark is the author of the poetry collections The Babies & Tsim Tsum. Wild Milk, her first book of fiction, is recently out from Dorothy, a publishing project. Happily, her collection of essays on fairytales and motherhood which began as a monthly column in The Paris Review, is forthcoming from Random House. She lives, writes, and teaches in Athens, Georgia. You can read more about her at 
www.sabrinaorahmark.com
The author of 19 books of poetry, fiction, memoir, biography, and translation, Terese Svoboda will publish her eighth book of poetry, Theatrix: Play Poems (Anhinga Press), in 2021. Her fourth book, Treason, will be reissued by Doubleback Books in October 2020. Anything That Burns You: A Portrait of Lola Ridge, Radical Poet appeared in paper in 2018, and Great American Desert, a clifi book of stories, in 2019. A Guggenheim fellow, she has been awarded the Bobst Prize in fiction, the Iowa Prize for poetry, an NEH grant for translation, the Graywolf Nonfiction Prize, a Jerome Foundation prize for video, the O. Henry Award for the short story, and a Pushcart Prize for the essay. Her opera WET premiered at L.A.'s Disney Hall. "Terese Svoboda is one of those writers you would be tempted to read regardless of the setting or the period or the plot or even the genre." – Bloomsbury Review
Multiple-award winning author and editor Nisi Shawl wrote the 2016 Nebula Award finalist Everfair (Tor), an alternate history set in the nineteenth and twentieth century Congo. They have edited and co-edited numerous acclaimed anthologies, including in 2019 New Suns: Original Speculative Fiction by People of Color (Solaris). In 2005 they co-wrote the foundational text on inclusive representation in fiction, Writing the Other: A Practical Approach, which forms the basis of their ongoing class series. Shawl helped found the Carl Brandon Society, a nonprofit organization supporting diversity in the imaginative genres, and they serve on the board of the Clarion West Writers Workshop, of which they are a 1992 alumna. They live in Seattle and take frequent walks with their cat.
Juan Vitulli was born in Rosario, Argentina (1975). He studied literature at the University of Rosario until moving to the USA to pursue a PhD in Spanish at Vanderbilt University. He is now Associate Professor of Spanish at the University of Notre Dame where he teaches Early Modern Spanish literature and culture with a strong interest in the Baroque. Published by Ediciones Corregidor in Buenos Aires, Argentina, Sur de Yakima is his first collection of short stories. Featuring different voices that move between various themes and situations, the stories present a series of broken epiphanies in which the sense of belonging to a place, language, or tradition comes undone. In 2020, Editorial Tren Instantáneo (Buenos Aires, Argentina) will publish his book Primavera Indiana (poems). He just finished a new book of short stories, and he is working on a collection of poetry tentatively titled De natando.
Maria Melendez Kelson writes fiction, magazine features, literary essays, and poetry. Her mystery novel-in-progress won the inaugural Eleanor Taylor Bland Crime Fiction Writers of Color Award from Sisters in Crime, and Strand Magazine selected a speculative short story of hers as a monthly feature on 
strandmag.com.
 Her poetry and prose have appeared in Poetry magazine, Orion, Ms. magazine, Flash Fiction Magazine, and numerous anthologies. Author of two poetry collections (as Maria Melendez) published by University of Arizona Press, her books have been finalists for the PEN Center USA Literary Award and the Colorado Book Award, and both received Honorable Mention at the International Latino Book Awards. A past editor of Pilgrimage magazine, a literary journal focused on themes of story, spirit, witness, and place, she is currently a faculty member in English at Dodge City Community College in Kansas. Follow her on Twitter: @mkelsonauthor.
As a poet, prose writer, playwright, critic and publisher, Joyelle McSweeney is interested in the ways in which writing moves among genres, languages, media, and materials. She is the author of ten books, most recently the double poetry collection Toxicon and Arachne (Nightboat Books, 2020), called "frightening and brilliant" by Dan Chiasson in the New Yorker; The Necropastoral: Poetry, Media, Occults (University of Michigan Poets on Poetry series, 2015), a book of goth eco-criticism; and the verse play Dead Youth, or, the Leaks, which won the inaugural Leslie Scalapino Prize for Innovative Women Playwrights. With Johannes Göransson, McSweeney founded and edits Action Books, an international press for poetry and translation. She lives in the Rust Belt and teaches at Notre Dame.