Jeanette Miller & Matthew Graham @ Prairie Lights
Jeanette Miller & Matthew Graham @ Prairie Lights
June 23, 2019 @ 4:00 pm

-

6:00 pm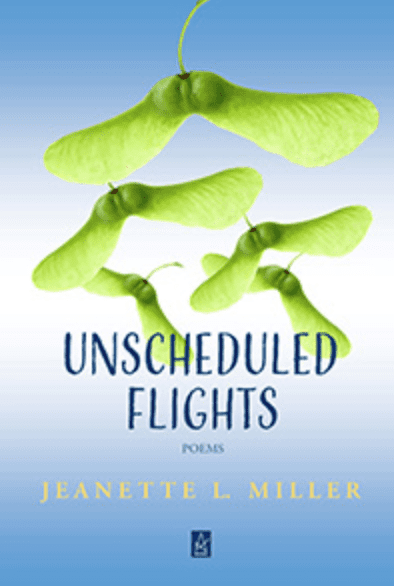 "Jeanette Miller makes a stellar debut in Unscheduled Flights, a collection of poetry that spreads its wings and takes the reader on a journey of the imagination from George's Bar and Grill to the River Ganges, from the mundane to the mystical. Miller heeds the call of the symbolic crow throughout, that call of unconscious transformation. With the detail, precision and perspective of a visual artist, the poet glides over loves lost and won, youth finally finding its grounding in age." —Mary Swander
Miller's work has appeared in Caesura, Meanjin, Phoebe, Poet & Critic, Prairie Schooner, Shenandoah, Southern Indiana Review, and WordWrights. She is the winner of a Fellowship to the Vermont Studio Center, Iowa Arts Council First Prize in Poetry, and a Residency at the Norman Mailer Writers' Colony. She lives in Iowa City.
"With longing, elegiac notes, wry humor, and an Edward Hopper-esque paint brush, Matthew Graham traverses the topography of a life made satisfyingly whole through a steadfast examination of the everyday, the cosmopolitan, and the contemplative. It's a potent combination that reminds me, in this moment of political divisiveness, that unwavering interiority is the first step toward bridging the invisible boundaries that divide us. The Geography of Home marks a poet at the height of his powers: wise, stinging, and wonderfully alive. You have to read these poems."—Marcus Wicker
Matthew Graham is the author of the previous books of poetry New World Architecture, 1946, and A World Without End, and he is the recipient of awards and fellowships from the Academy of American Poets, Pushcart, the Indiana Arts Commission and the Vermont Studio Center. He lives in Vermont.
Both Miller and Graham have MFA's from the Iowa Writers' Workshop.