Jessie Daniels in conversation with Lyz Lenz
Jessie Daniels in conversation with Lyz Lenz
October 28, 2021 @ 7:00 pm

-

9:00 pm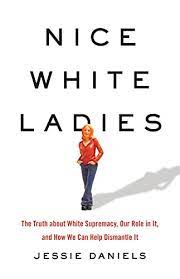 Prairie Lights Virtual – Zoom
Please join us for a reading and conversation with Jessie Daniels to celebrate the release of her book Nice White Ladies: The Truth about White Supremacy, Our Role in It, and How We Can Dismantle It. She will be joined in conversation by Lyz Lenz.
To join this virtual event, register here.
Kirkus Reviews calls the book, "An immensely readable examination of White women's prominent role in the endurance of systematic racism… the author uses a wide array of examples of "nice white ladies" both on the right and the left… [she] also discusses the tragic suicide of her mother, who, despite relative privilege, was "taught to be nice above all else"—like many White women. Daniels, who has clearly done the work of examining herself first, concludes by offering constructive ways White women can undo the damage of their privileged status."
Jessie Daniels is the author of White Lies and a Faculty Affiliate at the Harvard Berkman Klein Center for Internet, a research associate at the Oxford Internet Institute, and Professor at Hunter College and The Graduate Center, CUNY, in Sociology, Critical Social Psychology, and Africana Studies. Jessie is an internationally recognized expert on Internet manifestations of racism and her writing on race has appeared in the New York Times, NPR, Forbes, and Newsweek. She lives in New York City.
Lyz Lenz has published work in the Huffington Post, The Washington Post, the Columbia Journalism Review, The New York Times, Pacific Standard, and others. Her book God Land was published in 2019, through Indiana University Press. Her second book Belabored, was published in 2020 by Bold Type Books. Lyz's essay "All the Angry Women" was also included in the anthology Not that Bad, edited by Roxane Gay.  Her third book, This American Ex Wife, will be published by Crown. Lyz received her MFA in creative writing from Lesley University. She lives in Iowa with her two kids and two dogs and one cat.  She writes a regular newsletter, Men Yell At Me, where she explores the intersection of politics and our bodies in red state America.