Jim Throgmorton in conversation with Scott Samuelson
Jim Throgmorton in conversation with Scott Samuelson
June 2 @ 7:00 pm

-

9:00 pm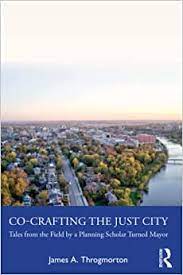 Prairie Lights – In Store
Please join us for a reading and conversation with former Iowa City Mayor Jim Throgmorton and author and Kirkwood philosopher instructor Scott Samuelson, in celebration of the release of Throgmorton's new book, Co-Crafting the Just City: Tales from the Field by a Planning Scholar Turned Mayor.
In this new book, Throgmorton illustrates what democratically-elected city council members and mayors in the United States do, and what it feels like to occupy and enact those roles. In the book he shares how his experience as an Urban and Regional Planning professor and his service as an Iowa City Council member shaped his leadership as mayor from 2016 through 2019.
The book documents efforts to alleviate race-related inequities, increase the supply of affordable housing, adopt an ambitious climate action plan, improve relationships between city government and diverse marginalized communities, pursue more inclusive and sustainable land development codes/policies, and more.
Jim Throgmorton is Emeritus Professor, School of Planning and Public Affairs of The University of Iowa. He served on the Iowa City Council from 2012 through 2019 and was elected Mayor in 2016.
Scott Samuelson is the author of The Deepest Human Life, for which he won the Hiett Prize in the Humanities, and Seven Ways of Looking at Pointless Suffering: What Philosophy Can Tell Us about the Hardest Mystery of All. He lives in Iowa City, where he teaches philosophy at Kirkwood Community College.
Masks are required to attend!