John T. Price, Ned Stuckey-French, and Hope Edelman
John T. Price, Ned Stuckey-French, and Hope Edelman
July 29 @ 7:00 pm

-

9:00 pm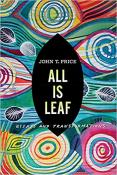 Prairie Lights Bookstore
Join us for an evening celebrating literary friendships!  John T. Price will read from his new book, All is Leaf: Essays and Transformations (U. of Iowa Press).  He will be joined by Hope Edelman who will read selections from their late friend Ned Stuckey-French's recently published collection, One by One, the Stars: Essays (U. of Georgia Press).  These three award-winning authors were long-time friends and graduates of UI's Nonfiction Writing Program/English Department.
John T. Price is the author of four books of nonfiction, including Man Killed by Pheasant and Other Kinships and All is Leaf: Essays and Transformations.  He is also editor of The Tallgrass Prairie Reader.  A recipient of a prose fellowship from the National Endowment for the Arts, his work has appeared in numerous journals and anthologies, including Orion, Creative Nonfiction, Fourth Genre, Terrain.org, the Iowa Review, Essay Daily, and Best Spiritual Writing.  He is the Regents/Foundation Distinguished Professor at the University of Nebraska at Omaha, where he directs the English Department's Creative Nonfiction Writing Program. He lives with his family in the Loess Hills of western Iowa.
Ned Stuckey-French (1950-2019) was professor of English at Florida State University. He is the author of The American Essay in the American Century and co-editor (with Carl Klaus) of Essayists on the Essay: Montaigne to Our Time. His articles and essays appeared in journals and magazines such as the Missouri Review, the Iowa Review, Walking Magazine, culturefront, Pinch, Guernica, middlebrow, and American Literature, and they were listed five times among the notable essays of the year in Best American Essays.  He received the 2020 Stand UP Award from the Association of University Presses for his advocacy work.  A beloved husband and father, he is survived by his wife Elizabeth and their daughters, Flannery and Phoebe.
Hope Edelman is the author of eight books of nonfiction, including the bestsellers Motherless Daughters, Motherless Mothers, and The Possibility of Everything. Her most recent book is The AfterGrief: Finding Your Way Along the Long Arc of Loss. A graduate of the University of Iowa nonfiction writing program, she co-edited the anthology I'll Tell You Mine: Thirty Years of Essays from the Iowa Nonfiction Writing Program with Robin Hemley, former director of the NWP. Her articles, essays, and review have appeared in numerous outlets, including The New York Times, the Washington Post, the Los Angeles Times, Cnn.com, Psychology Today, Writer's Digest, Parade, Brevity.com, and The Iowa Review. She is the recipient of a Pushcart Prize for nonfiction and a New York Times Notable Book of the Year designation. Hope lives in Los Angeles and spends part of every summer in Iowa City.