Joshua Weiner and Christopher Merrill
Joshua Weiner and Christopher Merrill
November 4 @ 7:00 pm

-

9:00 pm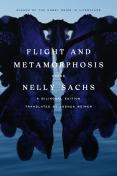 Prairie Lights Bookstore
Please join us for a reading and conversation with Joshua Weiner in celebration of the release of his translation of Nelly Sachs' poetry: Flight and Metamorphosis (FSG, 2022), and with Christopher Merrill, who will be reading from his book, Flares.
Nelly Sachs (1891–1970) was a dramatist and poet. Born into a Jewish family in Berlin, she was forced to flee Germany and escape to Sweden with her mother in 1940, where she worked as a translator. Her collections of poetry include In the Habitations of Death, Eclipse of Stars, And No One Knows Where to Go, and Flight and Metamorphosis. She was awarded the Nobel Prize in Literature in 1966.
Joshua Weiner is a poet and translator. He is the author of Berlin Notebook: Where Are the Refugees?, The Figure of a Man Being Swallowed by a Fish, From the Book of Giants, and The World's Room, and he is the editor of At the Barriers: On the Poetry of Thom Gunn. From 1997 to 2021 he served as the poetry editor at Tikkun magazine. He is a professor of English at the University of Maryland, College Park, and lives in Washington, D.C.
Christopher Merrill is the author of numerous books including poetry collections Boat, Brilliant Water, and Watch Fire; many edited volumes and translations; nonfiction  Things of the Hidden God and  The Tree of the Doves. He published a collaboration with Marvin Bell called After the Fact: Scripts & Post Scripts. Merrill directs the International Writing Program at The University of Iowa, serves on the U.S. National Commission for UNESCO, has conducted cultural diplomacy missions in over thirty countries for the U.S. State Department, and in 2012 President Obama appointed Merrill to the National Council on the Humanities.