Juliet Patterson
November 2 @ 7:00 pm

-

9:00 pm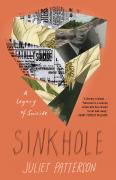 Prairie Lights Bookstore
Please join us for a reading and conversation with Juliet Patterson in celebration of the release of her book Sinkhole: a Legacy of Suicide (Milkweed, 2022). 
"Mixing autobiography, academic psychology, and an ecological history of Kansas, Patterson, a poet, examines the suicides in her family, beginning with her father's."—The New Yorker
"A soulful odyssey . . . [Patterson's] bewilderment and edge-of-the-sinkhole grief is palpable . . . Though the memoir doesn't solve the riddle of suicide or offer a neat narrative arc, it does show the value of remembering and the importance of paying attention to, for example, a 'rack of suits and ties,' . . . or a Lite Brite message left glowing in the dark after her father left for a business trip that said: 'Be good. I love you. See you soon.'" —Minneapolis Star Tribune
Juliet Patterson is the author of Sinkhole, as well as two collections of poems,Threnody and The Truant Lover, a finalist for the Lambda Award. Her poems and essays have appeared widely.
This reading is co-sponsored by the Iowa Nonfiction Writing Program Krause Series in Contemporary Nonfiction.