K-6 Crafternoon: Maud Lewis Folk Art Birdhouse
K-6 Crafternoon: Maud Lewis Folk Art Birdhouse
July 1 @ 2:00 pm

-

3:00 pm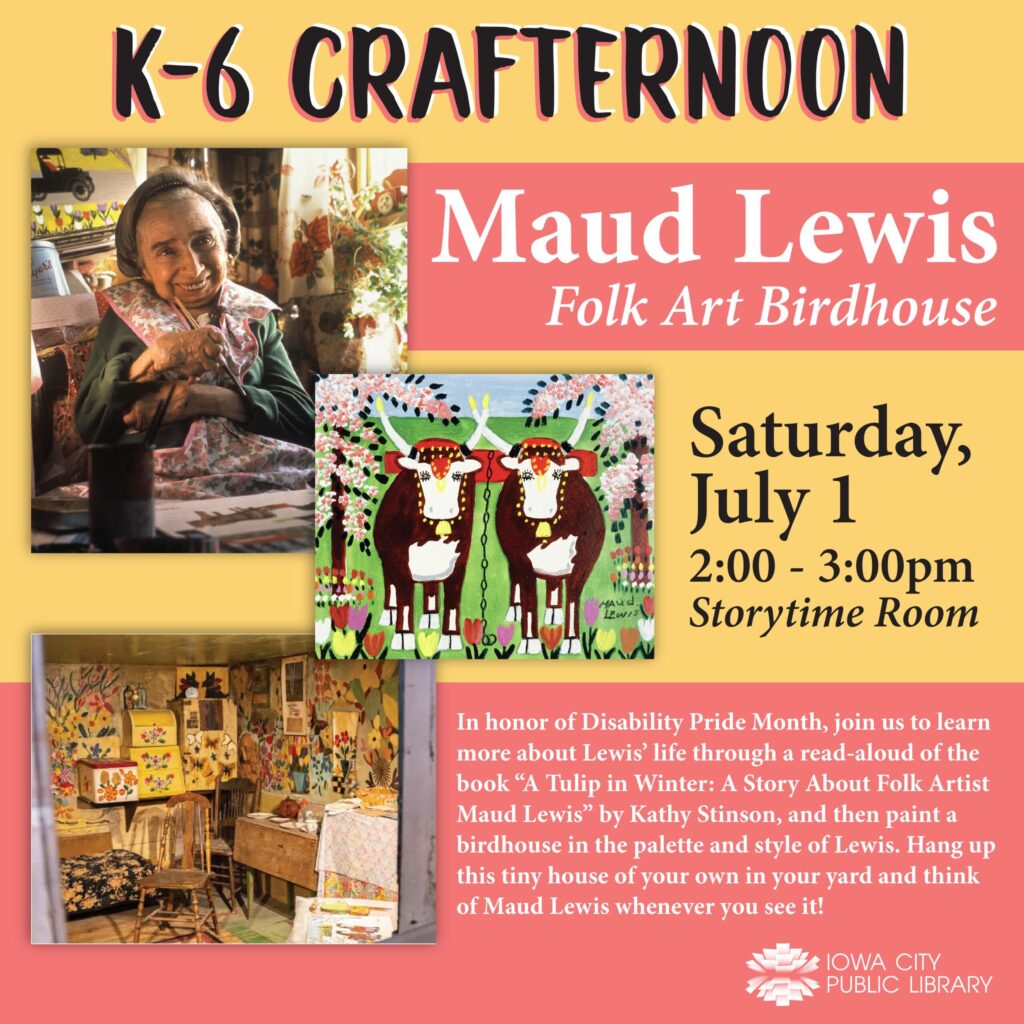 Saturday, July 1, 2023 –2:00pm to 3:00pm
Known for her vibrant and cheerful paintings of landscapes, plants, and animals, Maud Lewis' iconic folk art is celebrated around the world. In addition to creating paintings for sale, Lewis covered the inside of her 100-square-foot tiny home with colorful painted images as well.
Despite her recognition today as an important folk artist, Lewis lived most of her life in extreme poverty. She was also disabled by a condition then called juvenile rheumatoid arthritis, and was in immense pain throughout her life.
In honor of Disability Pride Month, join us to learn more about Lewis' life through a read-aloud of the book "A Tulip in Winter: A Story About Folk Artist Maud Lewis" by Kathy Stinson, and then paint a birdhouse in the palette and style of Lewis. Hang up this tiny house of your own in your yard and think of Maud Lewis whenever you see it!
Maud Lewis的艺术风格以欢快活泼的风景、植物和动物画作而闻名于世。她一生受尽贫困和病痛, 却取得了非凡的艺术成就。为纪念残疾人骄傲月,今天我们将朗读Kathy Stinson的《冬天的郁金香:民间艺术家莫德·刘易斯的故事》一书,了解更多刘易斯的生平,然后仿照刘易斯的风格学习画一个鸟屋。刘易斯曾住在一个100 平方尺的小房子里,她在房子里的墙壁、地板、楼梯和家居品上用鲜艳的色彩绘制了美丽的花卉和动物。这所小房子如今收藏于新斯科舍美术馆内。尝试设计一些漂亮的图案也打造一座你自己的小房子(鸟屋)挂在院子里吧!
Conocida por sus vibrantes y alegres pinturas de paisajes, plantas y animales, el icónico arte popular de Maud Lewis se celebra en todo el mundo. Además de crear pinturas para la venta, Lewis también cubrió el interior de su pequeña casa de 100 pies cuadrados con coloridas imágenes pintadas.
A pesar de su reconocimiento actual como una importante artista popular, Lewis vivió la mayor parte de su vida en la pobreza extrema. También estaba discapacitada por una condición que entonces se llamaba artritis reumatoide juvenil, y sufrió un dolor inmenso durante toda su vida.
En honor al Mes del Orgullo de la Discapacidad, únase a nosotros para aprender más sobre la vida de Lewis a través de una lectura en voz alta del libro "A Tulip in Winter: A Story About Folk Artist Maud Lewis" de Kathy Stinson, y luego pinte una pajarera en la paleta. y estilo de Lewis. ¡Cuelga esta pequeña casa propia en tu jardín y piensa en Maud Lewis cada vez que la veas!
If you need disability-related accommodations in order to participate in this event, please contact the Library.
This event is open to the public.