Kurt Vonnegut and the Many Lives of Slaughterhouse-Five
Kurt Vonnegut and the Many Lives of Slaughterhouse-Five
November 9, 2021 @ 6:00 pm

-

8:00 pm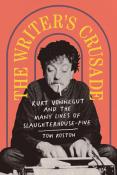 November 9, 2021 – 6:00pm
Virtual Zoom
Join the Kurt Vonnegut Museum & Library on Tuesday, November 9th at 6pm Central Time/ 7pm Eastern Time) for a talk about the legendary Kurt Vonnegut, as author Tom Roston presents his new book, The Writer's Crusade: Kurt Vonnegut and the Many Lives of Slaughterhouse-Five.
Roston will discuss The Writer's Crusade, and the role of trauma in war writing, with Iraq war veteran and novelist Matt Gallagher and author, and Vietnam war veteran and bestselling author Karl Marlantes.
You can get tickets for this virtual event here. 
Tom Roston has worked as a journalist with The Nation and Vanity Fair, and was a senior editor at Premiere for more than a decade. His work has appeared in the New York Times, New York magazine, LitHub, and more. He is the author of two previous books, I Lost It at the Video Store: A Filmmaker's Oral History of a Vanished Era and The Most Spectacular Restaurant in the World. He lives in Brooklyn.
Matt Gallagher is an Iraq war veteran and author of the novels Empire City, and Youngblood, as well as Kaboom: Embracing the Suck in a Savage Little War. He holds an MFA in fiction from Columbia and has written for The New York Times, The Atlantic, Esquire, and The Paris Review. For many years, he taught NYU's Words After War writing workshop. He lives with his wife and son in Brooklyn.
Karl Marlantes graduated from Yale University and was a Rhodes Scholar at Oxford University, before serving as a Marine in Vietnam, where he was awarded the Navy Cross, the Bronze Star, two Navy Commendation Medals for valor, two Purple Hearts, and ten air medals. He is the bestselling author of Matterhorn and What It Is Like to Go to War. He lives in rural Washington.