Lance Olsen
March 2 @ 7:00 pm

-

9:00 pm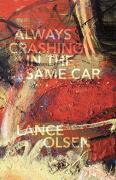 Prairie Lights
Guggenheim and NEA recipient Lance Olsen will read from his new novel, Always Crashing in the Same Car.
"Always Crashing in the Same Car presents a phantasmagorical mosaic of facts and fantasies concerning the life and art of David Bowie, entirely appropriate to its subject, for whom the mask always melted into the face and vice versa. Yet the subject also demanded a meditation on memory, loss, and love; on the projection of a writer's self through their chosen idols; on the artist's attempt to orchestrate the manner of a life's conclusion. All this, Lance Olsen delivers, and more." —Jonathan Lethem
Lance Olsen is the author of more than 30 books of and on innovative writing, most recently the novels Skin Elegies and My Red Heaven.  His short stories, essays, and reviews have appeared in Conjunctions,  Black Warrior Review,  Fiction International,  Village Voice,  BOMB,  McSweeney's, and Best American Non-Required Reading. A Guggenheim, Berlin Prize, D.A.A.D. Artist-in-Berlin Residency, Rockefeller Center Bellagio Residency, N.E.A. Fellowship, and Pushcart Prize recipient, as well as a Fulbright Scholar, Olsen is also an Iowa Writers' Workshop alum. He teaches experimental narrative theory and practice at the University of Utah.