Latin American Music and Storytelling with Karin Stein
Latin American Music and Storytelling with Karin Stein
October 6 @ 10:30 am

-

11:00 am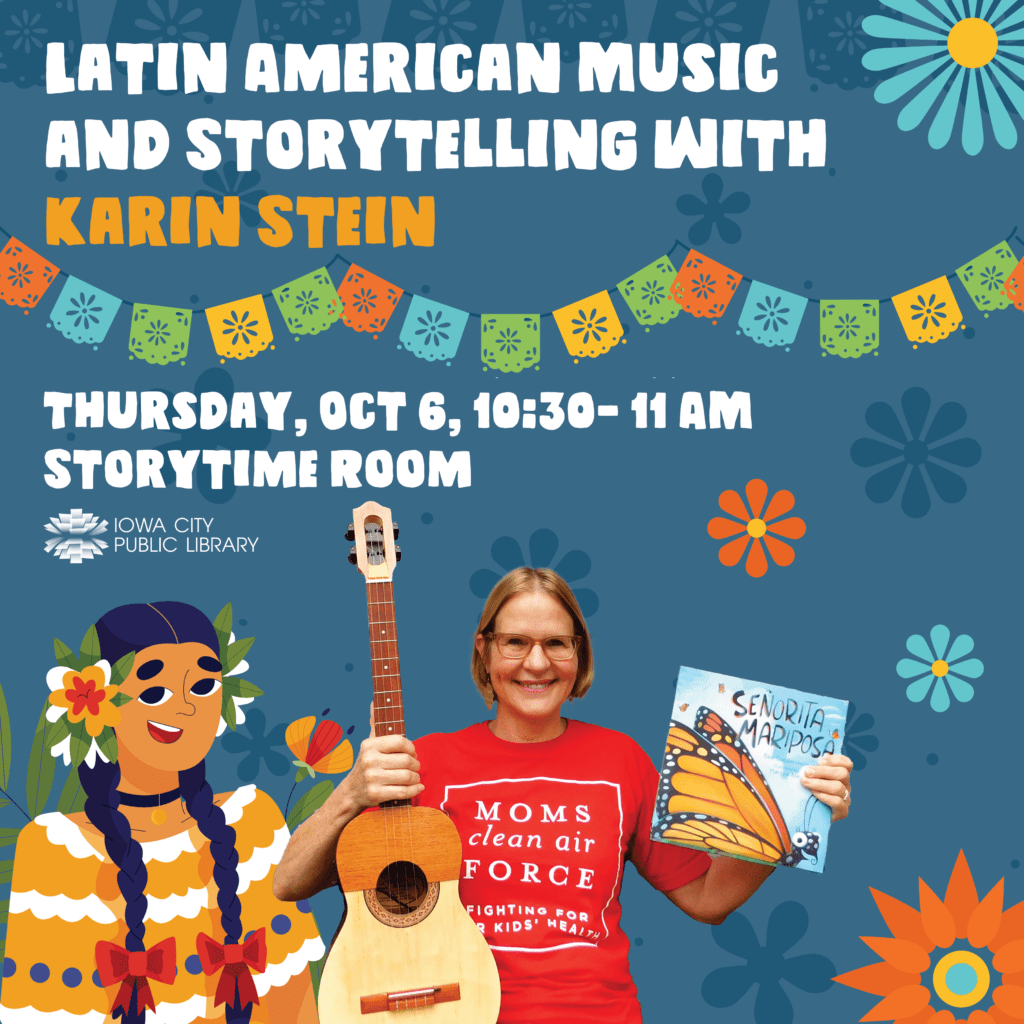 Thursday, October 6, 2022 –10:30am to 11:00am
Join us this morning for a very special Storytime celebrating Hispanic Heritage Month with Colombian musician Karin Stein. She will present a bilingual, family-friendly, music and storytelling program here at the library! Ms. Stein is part of a group called EcoMadres. EcoMadres is a group of mothers and fathers who fight for clean air and the health of our children.
She will read the picture book, Señorita Mariposa, about the monarch butterfly migration based on an original, bilingual songs by Mister G. She will also share her passion and talent for Latin American music through an interactive concert to be enjoyed by the whole family!
—
今天的特别故事会我们将和来自哥伦比亚的音乐家卡琳·斯坦 (Karin Stein) 一起庆祝西班牙裔传统月。她将为大家带来适合全家参与的双语音乐故事节目! Stein 女士同时也是EcoMadres 组织的成员,该组织由一群致力于为清洁空气和儿童健康而奋斗的家长们组成。
她将为我们朗读绘本Señorita Mariposa 《蝴蝶小姐》,这本书源自于G 先生的原创双语歌曲,讲述了帝王蝶迁徙的故事。她还将为所有家庭带来互动型音乐表演,分享她对拉丁美洲音乐的热爱和才华。
Únase a nosotros esta mañana para una hora de cuentos muy especial que celebra el Mes de la Herencia Hispana con la música colombiana de Karin Stein. ¡Presentará un programa bilingüe, familiar, de música y narración de cuentos justo en el biblioteca! La Sra. Stein es parte de un grupo llamado EcoMadres. Ecomadres es un grupo de madres y padres que trabaja fuerte por un aire limpio y la salud de nuestros niños.
Ella leerá el libro ilustrado, Señorita Mariposa, sobre la migración de la mariposa monarca basado en canciones originales bilingües de Mister G. ¡También compartirá su pasión y talento por la música latinoamericana a través de un concierto interactivo para que disfrute toda la familia!
If you need disability-related accommodations in order to participate in this event, please contact the Library.
This event is open to the public.