Let's Talk Books: Espionage / Spy Fiction
Let's Talk Books: Espionage / Spy Fiction
April 12, 2022 @ 7:00 pm

-

8:00 pm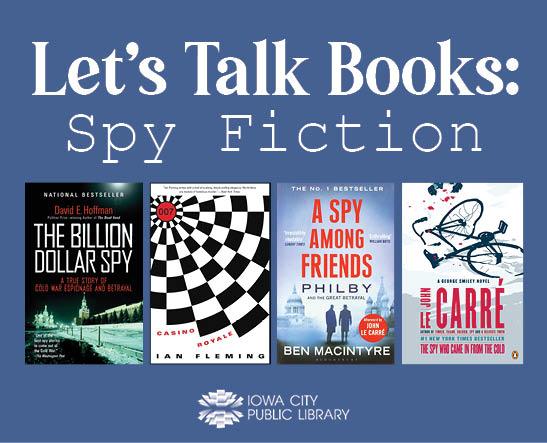 Tuesday, April 12, 2022 –7:00pm to 8:00pm
Espionage or spying is the act of illegally obtaining secret or confidential information or act of divulging the information to others without the permission of the owner of that information. As genre in both fiction and non-fiction it began in the early 1900s, and increased in popularity with each world war, the cold war, the real-life emergence of rogue states, international criminal or terrorist organizations, technological sabotage. Espionage fiction lends itself to long running series. Do you like espionage books? Pick some of your favorites and join us for the discussion or just join us to hear what others have liked.
To find espionage authors, search catalog.icpl.org for "spy fiction" , Goodreads.com for a list of spy fiction, or the Wikipedia article on spy fiction, https://en.wikipedia.org/wiki/Spy_fiction for a long list of authors.
Not quite a book group, Let's Talk Books is a series of casual conversations about books where we meet to talk about some of our favorite reads. We meet the 2nd and 4th Tuesday evening of each month with a different theme each time. Join us for your favorite genres to chat with like-minded readers.
Register here to reserve your spot for the discussion. Our video chat will take place on Zoom, and you'll receive an email with login details when you register and a reminder a few days before the event. Everyone is welcome.
This event is open to the public.