Let's Talk Books: Young Adult Books aren't just for teens
Let's Talk Books: Young Adult Books aren't just for teens
September 28 @ 7:00 pm

-

8:00 pm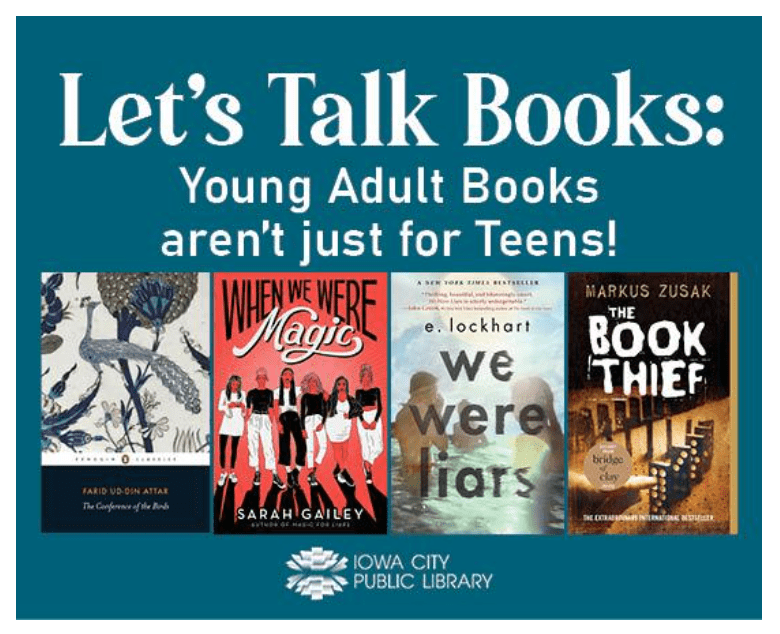 Tuesday, September 28, 2021 –7:00pm to 8:00pm
Publishers market Young Adult (YA) books to kids from 12-18, but that doesn't mean they're the only ones who read them. Young adult books appeal to adult readers too. Common themes of YA books include coming of age, family conflicts, individualism, loss, and self discovery to name a few. They can be realistic or heavily into fantasy or anywhere in between.
Not quite a book group, Let's Talk Books is a series of casual conversations about books where we meet to share descriptions of our favorite reads. Join us for your favorite genres to chat with like-minded readers. Bring a couple of recommendations to share or just show up to hear what everyone else loves!
Register here to reserve your spot for the discussion. Our video chat gathering will take place in Zoom, and you'll receive an email with login details in advance. Everyone is welcome.
This event is open to the public.