Mary Allen in conversation with Patricia Foster
Mary Allen in conversation with Patricia Foster
May 13 @ 7:00 pm

-

9:00 pm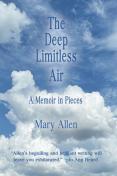 Prairie Lights Bookstore
Please join us for a reading and conversation with Mary Allen to celebrate the release of her new book The Deep Limitless Air: A Memoir in Pieces. She will be joined in conversation by Patricia Foster.
Mary Allen is a memoir and fiction writer whose themes are spiritual and psychological healing, love, the nature of life and death, and the ways our states of consciousness intersect with our experience of reality. Her writing — and broad range of writing topics — reflect her belief that the personal and the practical, the painful and the numinous, the spiritual and the ordinary are all blended together in our lives and cannot be separated from one another without at least part of the truth being lost. She has an MFA from the Iowa Writers' Workshop and has taught in the University of Iowa's nonfiction writing MFA program, the Iowa Summer Writing Festival, and the Rhetoric Department at the University of Iowa.  She currently makes a living as a writing coach and lives in Iowa City, Iowa.
Patricia Foster is the author of All the Lost Girls,  Just Beneath My Skin, Girl from Soldier Creek and the editor of four anthologies including Understanding the Essay (co-edited with Jeff Porter). She is the recipient of a Dean's Scholar Award, a Yaddo Fellowship, a Florida Arts Council Award, an Iowa Arts & Humanities Award, and has published over fifty essays and stories in  Ploughshares, The Sun, Virginia Quarterly Review and other quarterlies.  She is professor emeritus of the MFA Program in Nonfiction at UIowa and has taught in France, Australia, Italy, Czech Republic, and Spain.