Mary Helen Stefaniak
October 25 @ 7:00 pm

-

9:00 pm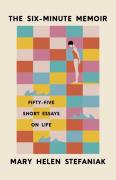 Prairie Lights Bookstore
Please join us for a reading and conversation with Mary Helen Stefaniak in celebration of the release of her book The Six-Minute Memoir: Fifty-Five Short Essays on Life (University of Iowa Press, 2022).
"The Six-Minute Memoir is a great pointillistic painting of a book," says author John McNally. "Up close, you admire the details inside each dot–a snowy night at the Drake, the troubling foundation of a 150-year old house, a murky ultrasound of the heart–but when you stand back, taking in the whole of it, the bigger picture emerges: an oft-neglected region of the country, a family lineage, a writer's life. Mary Helen Stefaniak has written an irresistibly likeable, slyly funny, and addictive memoir."
Mary Helen Stefaniak is a writer of fiction and essays whose work has appeared in many publications, including The Iowa Review, EPOCH, The Yale Review, AGNI, and The Antioch Review, and in several anthologies, including New Stories from the South: The Year's Best 2000 & 2006 (Algonquin Books) and A Different Plain (University of Nebraska Press). She has also served as a commentator on Iowa Public Radio, a columnist for The Iowa Source, and a contributing editor for The Iowa Review. About The World of Pondside, her latest novel, Booklist said: "Stefaniak infuses an often forbidding environment with joy and dignity in this Agatha Christie-esque cyber caper." She teaches in the M.F.A. program in writing at Pacific University in Oregon.