Maureen McCue in conversation with Miriam Kashia
Maureen McCue in conversation with Miriam Kashia
June 16 @ 7:00 pm

-

9:00 pm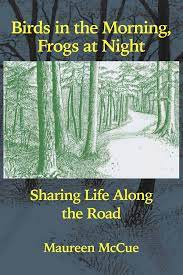 Prairie Lights Bookstore
Please join us for a reading and conversation with Maureen McCue to celebrate the release of her new book Birds in the Morning, Frogs at Night. She will be joined in conversation by Miriam Kashia.  
Maureen McCue has lived on 14 acres off an Iowa dirt road for 35 yrs. As a physician & professor in global health she has also traveled to work and learn in many distant, disparate settings from India and Bangladesh, to Haiti and Nicaragua, to Russia, Switzerland, Morocco, and others. Over time Maureen came to see the similarities, connections and challenges between lives here in Iowa — human, and non-human, in plant and animal — along her rural road and those she encountered around the world. In her case, and in many places around the world as people are themselves nearing the end of the road, McCue considers how to face or extend our lives as we find ourselves yet another endangered species.
Maureen will be joined in conversation by Miriam Kashia, retired psychotherapist who in 2014 at the age of 71 walked across the U.S. from LA, California to Washington DC with the Great March for Climate Action. During her 3,000 mile, 8-month journey she spoke with thousands of ordinary people and local media about looming climate and environmental concerns. Since the Climate March, Miriam has become an outspoken advocate and activist for the changes required to support our future well-being right here at home in Iowa and globally.