Musical Storytime with Katie Roche
Musical Storytime with Katie Roche
January 5 @ 10:30 am

-

11:30 am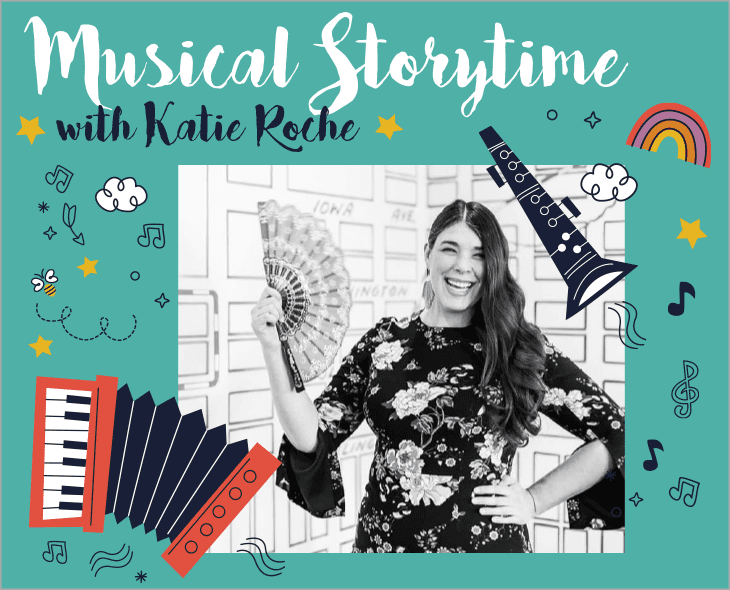 Thursday, January 5, 2023 –10:30am to 11:00am
This week's guest for Storytime is Katie Roche, who has recently joined ICPL as the new Development Coordinator, leading the Iowa City Public Library Friends Foundation! Katie is passionate about music and the arts, with prior experience with the Englert Theatre, as well as the Executive Director of Summer of the Arts. She is also in two local bands, the Awful Purdies and the Dandelion Stompers. Today she will share with us her love of music and libraries with a special musical Storytime, featuring the accordion and flute!
Preschool Stories & More is the Thursday Storytime program at the library and will often be a guest presenter, storyteller or performer! All ages are welcome to attend Preschool Stories and More every week, but some programs may be better suited for ages 3-5. If there is no guest presenter scheduled, Mari will do a traditional storytime!
————–
Preschool Stories & More es el programa de la hora de cuentos los jueves en la biblioteca y, a menudo, será un presentador invitado, un narrador o un artista. Todas las edades pueden asistir al programa cada semana, pero algunos programas pueden ser más para las edades de 3-5. Si no hay un presentador invitado, ¡Mari hará una hora de cuentos tradicional!
星期四的故事会 通常会邀请嘉宾主持。部分活动的内容更适于3-5岁儿童,同时也欢迎各年龄段的参与者。如果没有安排嘉宾主持人,Mari 会为我们带来一个传统的故事会!
本周的故事会嘉宾是ICPL新任的开发部协调人,图书馆之友基金会总监 Katie Roche。凯蒂对音乐和艺术充满热情,她曾任职Englert剧院, 担任过往届艺术之夏的执行总监。同时她也是Awful Purdies 和 Dandelion Stompers两个本地乐队的成员。今天,她将带来她的手风琴和长笛,通过特别的音乐故事与我们分享她对音乐和图书馆的热爱!
If you need disability-related accommodations in order to participate in this event, please contact the Library.
This event is open to the public.