Neil Hamilton in conversation with Chris Jones
Neil Hamilton in conversation with Chris Jones
June 23, 2022 @ 7:00 pm

-

9:00 pm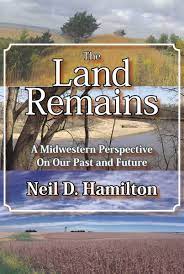 Prairie Lights Bookstore
Please join us for a reading and conversation with Neil Hamilton to celebrate the release of his new book The Land Remains. He will be joined in conversation by Chris Jones.
The Land Remains blends personal memoir, a history of Midwestern land conservation, and an analysis of contemporary issues of soil health, water quality, public lands, and future challenges to tell the story how land shapes our lives. Written by Prof. Neil Hamilton, a well-known authority on agriculture and land policy who recently retired after 36 years directing the Agricultural Law Center at Drake University, Des Moines, Iowa. The Land Remains weaves stories from his career working with food and the land to bring a fresh perspective to a topic most people take for granted. The book is narrated in part by the voice of the Back Forty, a field on his family's farm in Adams County. Influenced by past conservation leaders like John Lacey and Aldo Leopold, as well as efforts by current farmers and landowners who care for and steward the land. The book also weaves new insights from authors like Eddie Glaude Jr. and Jedidiah Purdy to trace the parallels in our attitudes toward the land to issues of historic racism, economic inequality, and environmental vulnerability rooted in our land history.
Chris Jones is a Research Engineer, IIHR Hydroscience at the University of Iowa. He's a popular blogger on contaminant hydrology, nutrient and sediment transport, agriculture and water quality, and water monitoring. His popular blogs include "Wake Up and Smell the Manure," and "Fifty Shades of Brown.