no coming, no going
September 22, 2022 @ 10:00 am

-

1:00 pm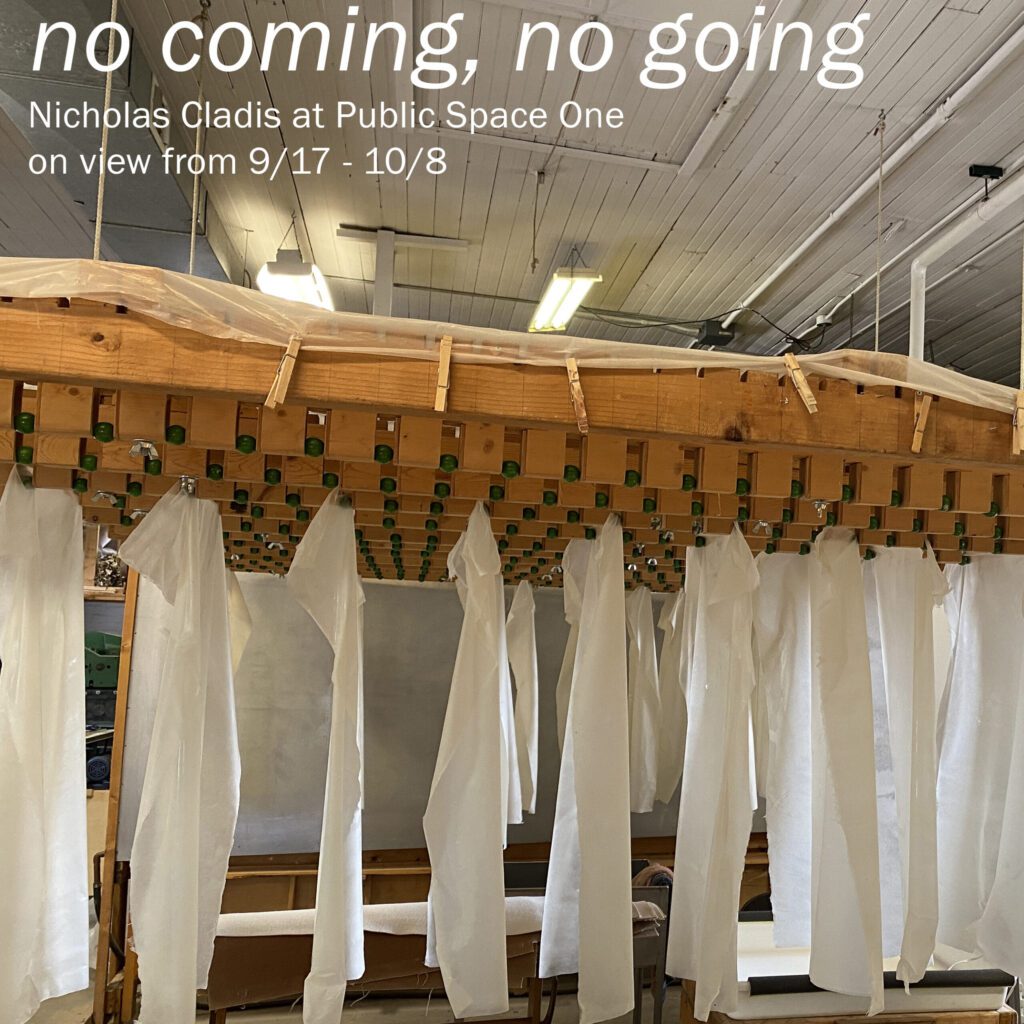 September 13th, 2022 — Public Space One is pleased to announce its September exhibition, No Coming, No Going at the PS1 North gallery (229 N. Gilbert), on view from September 17th to October 8th. This exhibition incorporates three hands-on, public paper making events (9/17, 9/23, and 10/1 see below for details). PS1 will host a closing event for the exhibition on October 8th from 6-8pm.
Read on for a statement by artist Nicholas Cladis:
In his teachings, the late Zen master Thich Nhat Hanh uses a sheet of paper to explain how, in his words, "nothing can exist by itself alone." "If there were no clouds, there would be no rain. The plants would not be able to grow. Without plants, we cannot make the pulp for the paper," Hanh says. "So really, the clouds are in here," he continues, pointing to a tiny sheet of paper. The sermon finishes with Hanh imagining the piece of paper burning, returning to smoke and ash, and thus to the very earth it came from.
At Public Space One in Iowa City, I will host a series of "paper pulls," wherein participants will "pull" a single sheet of handmade paper. When each sheet of paper is made and dried, it will then be placed within the gallery space as a progression that has been situated to seated eye level. I hope for each participant to become a piece of this communal oneness, while also developing a basic feel for the interaction between fiber and water, and the interrelationships of time, land, material, community, and choreography inherent to the hand papermaking process.
Each day, I will add a little bit more black pulp (dyed with soot, to reference the eventual return of the paper to the earth), thereby creating a subtle tone shift in the paper as it wraps around the space. Within the space, participants can sit on handmade paper cushions, contemplating the communal, collaborative work we have all made together.
RELATED EVENTS AND GALLERY HOURS
Closing event at 229 N. Gilbert, on October 8th, 6-8pm
Public "paper-pull" days in the courtyard of 229 N. Gilbert:
9/17 10am-1pm
9/24 12-3pm
10/1 10am-1pm
Visitors can experience the exhibition at 229 S. Gilbert during regular gallery hours:
Thurs 4-6p, Fri 3-6p, Sat 12-3p
or by appointment: gallery@publicspaceone.com